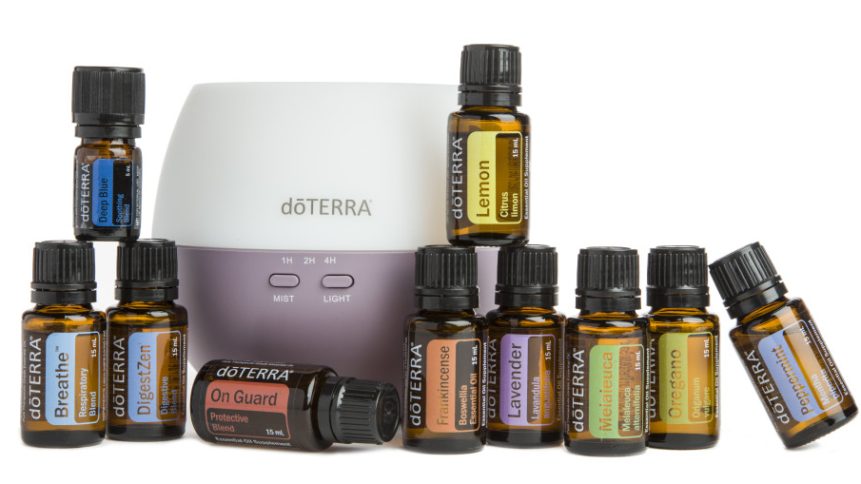 [Presented by doTERRA]
Everyone deals with some kind of stress in her or his daily life but when you're dealing with infertility, it can be difficult to feel like you ever really have a peaceful moment or can feel good inside and out. Stefanie Stavola, lead educator at doTERRA, the #1 essential oils company in the world—both in global sales and customer satisfaction—shares basic information on essential oils and offers four ways that essential oils can be an important part of women's self-care routine, offering positive benefits to mind, body, and spirit.
What Are Essential Oils?
First, what are essential oils? They are the highly concentrated liquid essence of a plant, the natural aromatic compounds found in the leaves, seeds, bark, roots, and flowers. One drop can literally equal 40 million trillion molecules! The oils can be so strong you can immediately imagine you're in the middle of a rose garden or peeling an orange when the related scent hits your nose. Because they are so concentrated they can be very effective very quickly.
DoTERRA was founded in 2008 by several partners who wanted to share the benefits of the highest quality therapeutic essential oils. They now offer more than 130 oils sourced from 45 countries. They are proud of their indigenous sourcing—wild oranges from Florida, lemons from Sicily, and lavender from France, to name a few.
Stavola says that in DoTERRA products there are no fillers, contaminants, or pesticides and they guarantee quality through rigorous testing. DoTERRA also works with a medical advisory board, as part of its commitment to bringing together traditional and alternative medicine.
How to Use Essential Oils
There are three basic ways that you can use essential oils. (Each one that you buy has a guide on how to use them.) You can also experiment to see what works best for you.
Aromatically: You can use the cup and inhale method—add a few drops in your hand and breathe that in deeply for a few seconds—or you can put the oil in a diffuser.

Topically: You can apply some oils undiluted directly onto the skin or diluted with a liquid such as fractionated (liquified) coconut oil.

Internally:

Not all oils can be taken internally, but many can. You can put some oils on or under your tongue, add a few drops of oil into water, or add some of the stronger oils, such as oregano oil, into a vegetarian capsule that seals in the oil so you don't taste it when you swallow it.  
4 Ways Essential Oils Can Support Fertility
Stavola offers four ways that essential oils can help you calm and pamper yourself while you're trying to conceive—with stress reduction, reducing toxic load and cellular support, digestion/gut microbiome support, and hormonal balance:
Stress Reduction

: Lavender is one of the world's top healing oils and doTERRA's most popular oil. It may help lower cortisol levels and help you calm yourself. The cup-and-inhale method offers immediate destressing effects. For some, lavender helps to induce sleep.
Some people love the wild orange essential oil when they're feeling low. It may help with anxiety, insomnia, and fear; it's uplifting. Stavola says: "It's impossible to have a negative thought when you smell this aroma!"
Stavola also recommends doTERRA's Balance Blend, which contains frankincense, spruce leaf, blue tansy, and blue chamomile. It's considered an emotional support oil, bringing harmony to the heart and body and offering a grounding effect for the emotions.
Reducing Toxic Load and Cellular Support:

These oils may help create a safe environment for your body, which can be beneficial for women trying to get pregnant.
Citrus oils, particularly lemon and wild orange may be cleansing and help with liver and kidney detox. The essential oil is from the rind not the fruit; it's much more potent. It takes 45 lemons to make one 5 mL bottle of essential oil. A few drops can be added to drinking water.
Frankincense is another top oil for cell support. It's often considered the "king of oils" because it's so therapeutic and used for so many things, including reducing inflammation and supporting immunity.
Stavola also recommends DDR-Prime Blend for internal or topical use. It includes frankincense, wild orange, lemongrass, thyme, summer savory, clove, and niaouli and is a powerful antioxidant blend. People like to apply this topically—to the stomach, on the wrist, over the heart, or the bottoms of the feet.
Gut Microbiome Support:

Peppermint oil is the top single-oil suggestion here. When your stomach is upset, you can put a few drops in water and take it like a shot or take a few drops on your tongue.
Stavola also recommends DoTERRA's Digestzen Blend, which includes peppermint, ginger, caraway, coriander, anise, tarragon, and fennel. You can add it to water or tea. It may help reduce bloating, gas, and indigestion. Some people also like to apply it topically to the stomach.
Hormonal Balance:

The most recommended single oil for this is clary sage, which may help balance estrogen. The cup and inhale method can make this a simple addition to a daily regimen. Thyme oil may also be used to help balance progesterone.
Stavola also recommends DoTERRA's Clary Calm Proprietary Blend, which includes clary sage, lavender, bergamot, roman chamomile, cedarwood, ylang-ylang, geranium, fennel, carrot seed, palmarosa herb, and vitex leaf/berry essential oils.
And there's even an essential oil for men—sandalwood oil may help increase testosterone levels.
How to Identify Good-Quality Essential Oils
Stavola says that there are some tips to buying essential oils: all oils are not the same.
Because there's no regulating body, people can say whatever they want about their products, so buyer beware. Look for verification of:
Purity

—Look for transparency in the company's practices. Do they do testing? And importantly, do they have independent third-party testing done? DoTERRA works with the Aromatic Testing Authority. There are nine different tests done for DoTERRA products including testing for skin irritations, contaminants, and pesticides. When you buy a DoTERRA product, you can go to the website sourcetoyou.com and read third-party quality reports for that product.

Potency

—This is how concentrated and effective the product is

.

It is what makes the product therapeutic. DoTERRA ensures the best possible potency with indigenous sourcing, working with farmers who harvest plants in their natural habitat where they are thriving. The soil and climate where a plant is grown impacts potency. For example, the best frankincense in the world comes from the Middle East.
Whichever essential oils you choose, they can be a powerful part of your self-care regimen to help you achieve the calm and pampering you crave during the challenging infertility process.
*Note: Though essential oils may contribute to a healthful lifestyle and positive self-care practice, this information should not replace necessary medical guidance or treatments for those who may need them.
---

---

Listen to stories, share your own, and get feedback from the community.