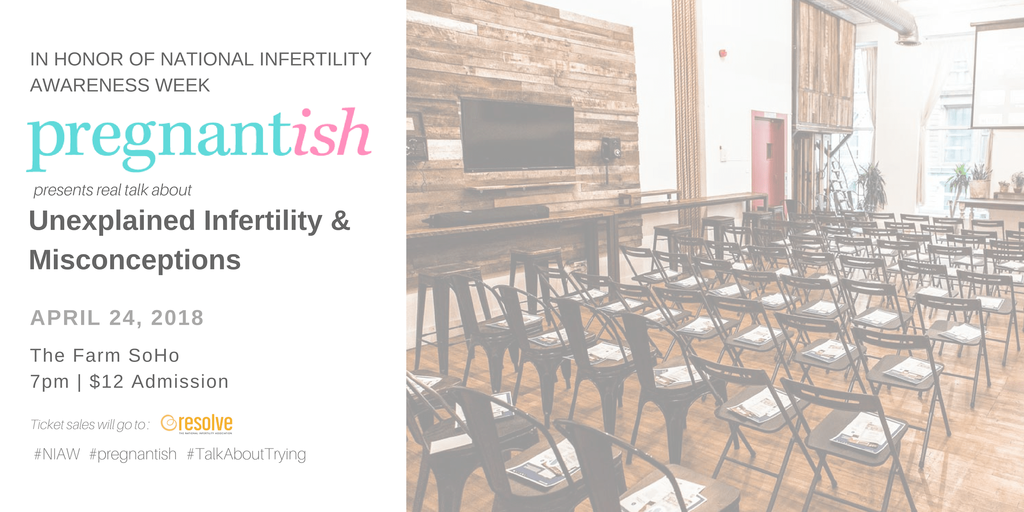 Venue:
447 Broadway, New York, NY 10013
pregnantish NIAW Event: Unexplained Infertility & Misconceptions
On Tuesday April 24, join pregnantish at the Farm SoHo in NYC in honor of National Infertility Awareness Week, for an inspiring and insightful evening of: Real Talk About Unexplained Infertility and Misconceptions.
After a reception where we'll enjoy light bites and entertainment, including comedy sketches from the UCBT (Upright Citizens Brigade Theater) show 'Infertile', we'll sit down and hear from our esteemed panel on how to best navigate next steps with fertility and how to address the many (many!) misconceptions.
This conversation will be moderated by the Executive Editor of Women's Health Magazine, Abby Cuffey, and will feature Relationship Expert & Founder of pregnantish, Andrea Syrtash, Reproductive Endocrinologist Dr. Serena Chen from IRMS (The Institute for Reproductive Medicine & Science) and Gary Harton from Igenomix.
Whether you're just starting or you're many years into treatments, our experts will answer questions on how to best manage this often stressful process and maximize your success with it. We'll also focus on unexplained infertility and how to best address it.
All participants will be treated to light bites and drinks, great entertainment, an educational panel and a special gift bag worth over $50. Our goal is to "Flip the Script" and have real talk about fertility so we all feel more informed and supported.
Pregnantish supports singles, couples, LGBTQ, and all are welcome to join.
This exclusive event has been generously supported by Ferring, Sema4, IRMS, and Igenomix.
This event has limited capacity and will sell out.
Proceeds from ticket sales will go to RESOLVE: The National Infertility Association. Their National Infertility Awareness week unites millions of Americans who want to remove the stigmas and barriers that stand in the way of building families.
Photos from the event: