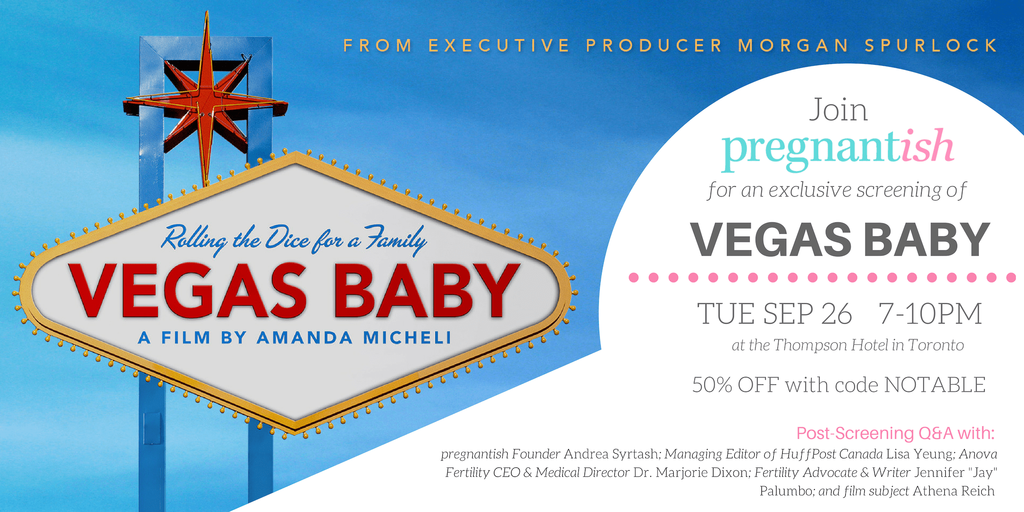 Venue:
550 Wellington Street West Toronto, ON M5V 2V4 Canada
pregnantish Presents: An Exclusive Screening of "Vegas Baby" in Toronto
Join pregnantish for an exclusive screening of the critically acclaimed film Vegas Baby on Tuesday September 26, 2017 at 7PM in Toronto. This provocative documentary follows several aspiring parents who desperately want to have a baby but are struggling with infertility and the high cost of treatments. Watch the trailer here.
Post-screening Q&A will be moderated by HuffPost Canada's Managing Editor (Lifestyle) Lisa Yeung, and will feature a conversation with pregnantish Founder and relationship expert Andrea Syrtash, Doctor of Reproductive Medicine at Anova Fertility Dr Marjorie Dixon, fertility advocate and author Jennifery "Jay" Palumbo, and film subject Athena Reich. (More on panelists below)
People navigating infertility, and those who want to support them, are encouraged to attend this event which shines the light on the complexities of starting your family with the help of science.
This event has limited capacity and will sell out.
Early bird tickets cost $12 USD (includes service fee and complimentary popcorn!).
Doors open at 7:00PM. Film will begin promptly at 7:30PM.
This screening event has been generously supported by Ferring Pharmaceuticals and Anova Fertility.
Photos from the event: