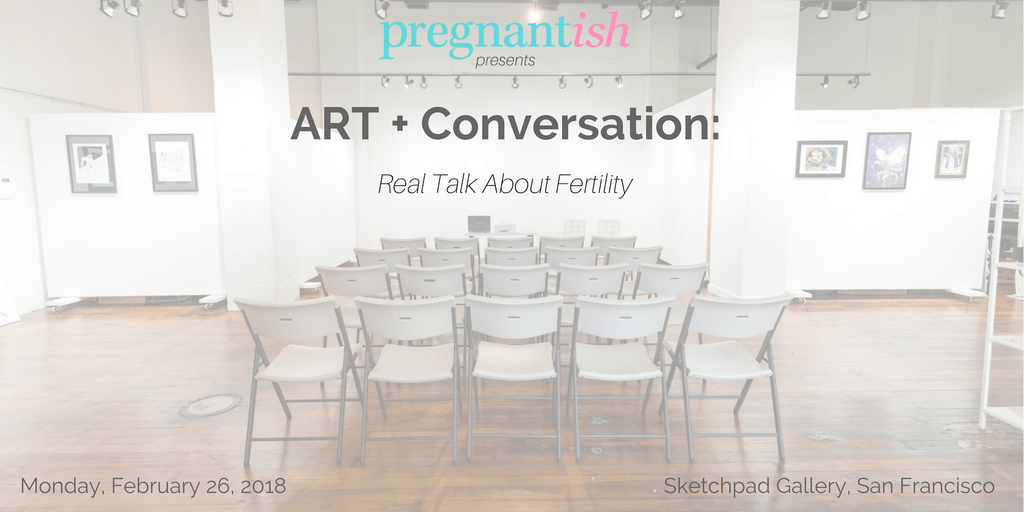 Venue:
505 Natoma Street San Francisco, CA 94103
Pregnantish Presents ART + Conversation: Real Talk About Fertility
Join pregnantish for our debut event in San Francisco, at the Sketchpad Gallery in SoMA, on Monday February 26 for an inspiring and insightful evening of ART + Conversation: Real Talk About Fertility.
After a reception where we'll enjoy the gallery's 'Good Vibes' exhibit (because – we can all use good vibes these days, can't we?!), we'll sit down and hear from our esteemed panel on how to best navigate fertility.
This conversation will be moderated by CNN and Glamour contributor Elissa Strauss, and will feature Relationship Expert & Founder of pregnantish, Andrea Syrtash, Reproductive Endocronologist Dr. Peter Klatsky from Spring Fertility, Fertility Specialist and the "Egg Whisperer" Dr. Aimee Eyvazzadeh and Wendie Wilson, CEO of Gifted Journeys and President at the Society of Ethics in Egg Donation and Surrogacy.
Whether you're just starting to consider ART (Assisted Reproductive Technology) to start or expand your family, or you're many years into treatments, our experts will answer questions on how to best manage this (often stressful) process and maximize your success with it.
All participants will be treated to the gallery exhibit, wine and cheese and a special gift bag. Our goal is to usher in 2018 with GOOD VIBES and with the support of community!
Pregnantish supports singles, couples, LGBTQ, and all are welcome to join. This exclusive event has been generously supported by Alto Pharmacy, Sema4 and Upstart. This event has limited capacity and will sell out.
Photos from the event: