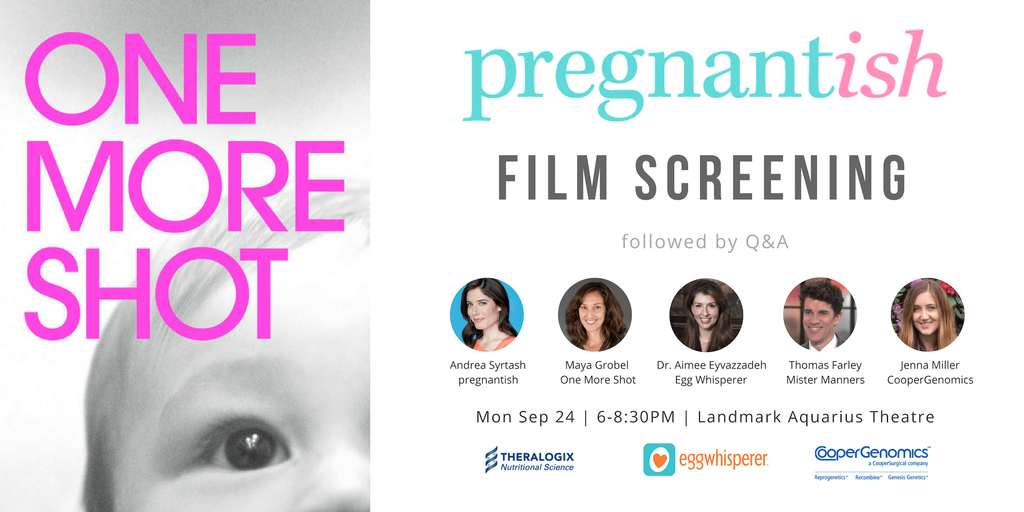 Venue:
430 Emerson Street Palo Alto, CA 94301
pregnantish Presents: "One More Shot" Film & Real Talk About Fertility
pregnantish is hosting its debut event in Palo Alto on Monday September 24, 2018 for couples and singles trying to start their families…with a little help.
Join us at the Landmark Aquarius Theatre in Palo Alto for a screening of the powerful documentary, One More Shot, about one couple's emotional journey towards parenthood.
After the film, hear from our esteemed experts who will share more information on male & female factor infertility, unexplained infertility and managing the fertility treatment process to maximize your chance of success. We'll also cover how to best manage relationships and take care of yourself during this process.
All participants will be treated to popcorn & a drink, the film, the panel and a special gift bag.
Parking is available in public lots opposite the theatre on Emerson Street or on surrounding neighborhood streets.
This exclusive event has been generously supported by CooperGenomics, Theralogix and Dr Aimee Eyvazzadeh of Egg Whisperer.
This event has limited capacity and WILL SELL OUT.
Photos from the event: