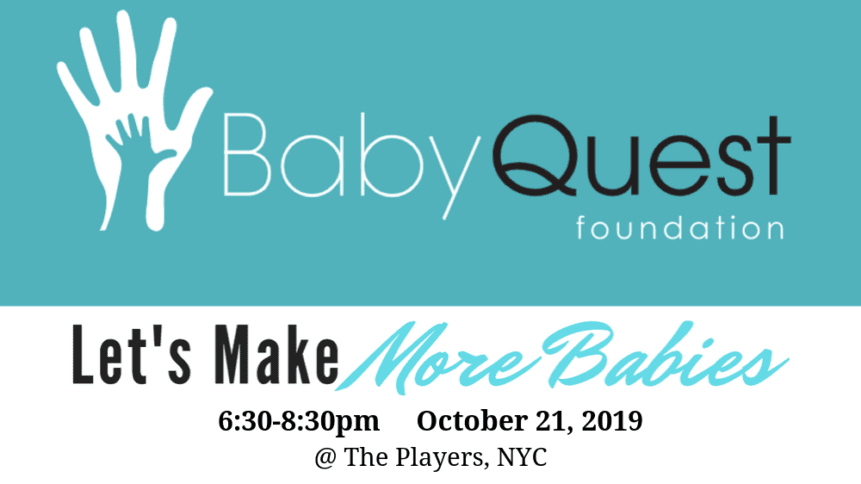 If you haven't heard of the Baby Quest charity, you may not know how much support they've given to people who have needed financial help to be able to access and cover fertility treatments like IVF, egg and sperm donation, egg freezing, embryo donation and/or gestational surrogacy to help build their families. Since launching in 2012, Baby Quest has awarded 107 grants and helped 78 babies (and counting!) enter the world.
As a non-profit company, Baby Quest relies on the generosity of the community to continue to fund those who need help in order to have babies. Their annual fundraising event in NYC, Let's Make More Babies, will take place at The Players on the evening of October 21, 2019 and will be an amazing opportunity to enjoy a fabulous night out, while supporting a worthwhile charity that relies on the support of donations.
Click here to sign up for a ticket before it sells out! And read Baby Quest Founder Pamela Hirsch's inspiring story to hear why she will keep fighting for those with infertility who need monetary assistance.
Q: When and why did you start Baby Quest?
Baby Quest gave its first grant in March 2012. At 28, our younger daughter endured years of fertility treatments, four IVFs, each initially successful, then a loss at 9 weeks. Finally, she was told she and her husband would not have children without a gestational surrogate. Having the ability to afford this gave our family a happy ending…the couple now has two daughters, each carried by a surrogate. However, this made me realize that too many couples experiencing infertility have no hope if they lack the financial ability to pay for treatment. That's why I established the charity.
Q: Who do you generally award grants to?
We have awarded grants to 107 applicants throughout the country and now have helped "produce" 78 babies and counting. We have given grants to singles, heterosexual and same sex couples. Recipients include those who need genetic testing to avoid passing along a disease to others who have lost their fertility because of cancer. Awards have gone to those with male factor infertility, PCOS, endometriosis, and diminished ovarian reserve.
Each grant cycle, we include at least one military recipient – either veteran or active duty. We seek those who have exhausted their funds on failed procedures or simply do not have the ability to begin treatment at all, yet deserve the opportunity to pursue parenthood.
Q: What do you think a misconception about infertility is?
Infertility is not an embarrassment and should not be treated as such. There is no shame in seeking help to conceive. We need to open the conversation and encourage awareness to de-stigmatize this condition.
Q: We know you're gearing up for your next live event in NYC. Why is it important to you to host these events and what can audiences who attend expect?
The events we hold are key to raising funds for recipients. Baby Quest pays no salaries. Therefore, a huge percentage of money raised goes to recipients. Without donations, we have no grants. Our events, such as the upcoming October 21st 2019 New York function will feature food, drink, and amazing talent. We do not believe in a pressure-packed event twisting arms for donations. We want to make our audience aware of us and the opportunity to help. However, we provide a program that is entertaining…a great "show."
Q: Anything else you want to add about infertility and Baby Quest's hopes for the future?
It is heartwarming to look back and see our progress. Baby Quest is a labor of love – sustained by volunteers to provide hope for many who seek help to create a family. We have certainly grown, but there is more work to be done. Organizations such as pregnantish who promote our mission help us grow and that is the only way to ensure that we will sustain our momentum. Hopefully, in the years to come, insurance coverage for infertility will become the "standard." Until then, we will continue to fund as many as possible so they can fulfill their dream of becoming parents.
You can now register for the October 21 NY event.
---

---

Listen to stories, share your own, and get feedback from the community.