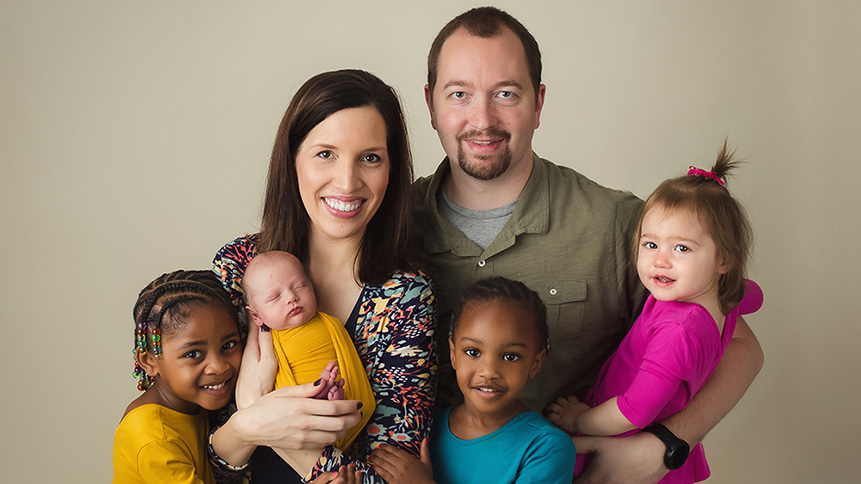 Shelley Skuster and her husband always knew they wanted to have a family, but never imagined their path to parenthood would unfold the way it did.
After two adoptions and two pregnancies, the Skusters are now grateful to be the parents of four amazing children, ages 4, 3, 2 and 7-months.
They continue to share their family's journey and their infertility experience through Shelley's blog Shelley Writes (the recipient of a RESOLVE Hope award) and through This Family's Journey on social media.
What's your fertility story in a nutshell?
After my husband and I tied the knot, we moved to a big city and chased our dreams. I landed a gig as a television news reporter, and he was a police officer. We had a great house, worked hard and traveled frequently.
We had it all…until we realized we didn't. Behind closed doors, we were struggling with infertility. It was truly the most painful season of our marriage.
After a year of juggling infertility treatments with our chaotic work schedules, my husband and I began grieving the loss of having biological children.
Years later, after a few relocations and job changes, we decided to grow our family through adoption.
It was six months into the adoption process when we received a phone call that our first daughter was born hundreds of miles away.
Eighteen months after she was born, we received a call about another baby girl. We drove through an Iowa blizzard to meet her.
And when we finalized our second daughter's adoption six months later, we found out that – against all odds and without any reproductive assistance – I was pregnant, with a third daughter!
Just as we were getting into a routine with three kids under the age of three, our fourth miracle surprised us with a plus sign. We welcomed him to the family a few months ago.
Our four children, all brought to us in such special and unique ways, have given our lives tremendous joy.
I'll never be grateful for infertility, but I will always be grateful for what it taught me and where it led me.Why did you start blogging to capture your experience?
I started blogging about our adoption journey when I was a television news reporter.
I wanted to use my platform as a journalist to raise awareness about adoption and "non-traditional" ways to build a family.
Opening up about my husband and my experiences with infertility didn't happen right away. In fact, I didn't even plan on sharing that season of my life because it was incredibly painful for us. But, as I started sharing about the road that led us to adoption, I realized how healing it was.
Each time I wrote about infertility, I felt a little bit freer. I felt less alone. And I felt like I finally found purpose behind those painful years.
What has your experience with infertility and adoption taught you about yourself and about family?
I'll never be grateful for infertility, but I will always be grateful for what it taught me and where it led me.
Infertility made my marriage stronger and has made me appreciate even the most minuscule aspects of motherhood.
Additionally, adoption has reshaped our definition of "family." My husband and I joke that we don't have a family tree, but we have a beautiful family orchard.
Of course there are long days and sleepless nights, but not a day goes by with my four children where I don't think about how grateful I am to be chosen as their mom.
Now that you're on the 'other side' with four kids, why do you still feel the need to speak about infertility? Is it always a part of you?
I recognize my infertility has been resolved, but it will always be part of who I am. Infertility will always be part of my family's story.
While I'm incredibly grateful to have grown my family through adoption and pregnancy and childbirth, the years we spent struggling to grow our family can never be erased.
I continue sharing about our family's journey through infertility because I know there's someone out there who is sitting on a bathroom floor feeling hopeless and defeated over another negative pregnancy test; and I know she needs me to speak straight to her soul and remind her that she is not alone, and that hope, healing and happiness are possible.
Were there moments when you lost hope? What kept you going towards your goal of parenthood?
Life hasn't worked out quite how my husband and I would've planned, but it certainly has turned out so much better.
When I think back to the early years of our marriage, there were definitely moments my husband and I felt hopeless and defeated.
The dreams we had for our family were crushed; we were devastated and broken – physically, emotionally and financially.
It wasn't until after we grieved the loss of the hopes and dreams we had for our family – after waiting on pins and needles (literally) for far too long – that we were able to turn a corner.
Once we came to the realization that we were going to be parents regardless of how our children came to us, we allowed ourselves to feel hopeful again, and we haven't looked back.
---

---

Listen to stories, share your own, and get feedback from the community.