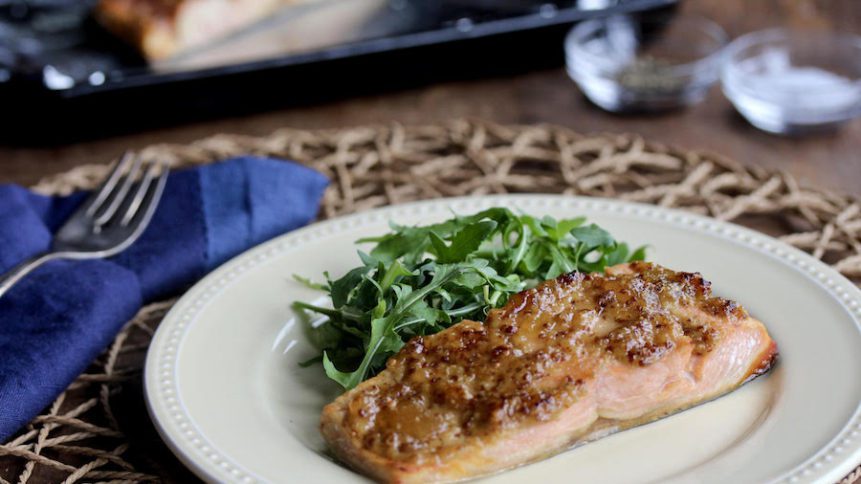 Food is such a special force in life. It's the prime fuel that helps nourish and energize our bodies.
I know how trying the trying-to-conceive (#TTC) time can be in someone's life. As a registered dietitian-nutritionist, I've worked with many people navigating this road. I also have personal experience with infertility. It's stressful in so many ways.
One essential part of the conception process that we don't hear enough about is nutrition. While there is no "superfood" that will result in conception, there are important food considerations that can positively impact your overall health, which can help boost fertility and balance your hormones.
Here are three things to keep in mind for those seeking a fertility-friendly diet:
Focus on Plants
Research supports eating at least one serving daily of plant-based proteins, such as beans, legumes, lentils, tofu, and soybeans, which may protect against ovulatory infertility. Plus, a diet rich in vegetables and fruits will provide your body with a healthy dose of antioxidants and phytonutrients. These elements help rid our bodies of free radicals—the bad guys that can affect our hormones and can interfere with fertility.
Get Your Whole Grains
Whole grains are important for optimum health. Consuming high-quality carbohydrates like grains as part of a nutrient-dense diet help keep glucose and insulin levels balanced, and is a great way to support your fertility. If you are gluten sensitive, you can still find whole-grain options that are gluten free, such as rice, quinoa, and millet. Plus, research indicates higher rates of whole grains prior to IVF treatment result in a higher probability of live births.
Don't Fear the Fat
The type of dietary fat you consume right now is important! Forget the old fat-free food trend.  Healthy fat is good for you. Try to consume omega-3-rich fish at least twice per week, if your diet supports that. For a general healthy diet and overall good health, focus on the heart-healthy unsaturated fatty acids from foods like nuts, seeds, avocados, and olive oil.
Sara Haas, a fellow food and nutrition expert who has also dealt with infertility, and I wrote a cookbook called Fertility Foods: 100+ Recipes to Nourish Your Body. Here are three of our favorite fertility-fueling recipes from the book that we hope will help support your healthy diet during this challenging time:
1) Shakshuka (Eggs in Tomato Sauce)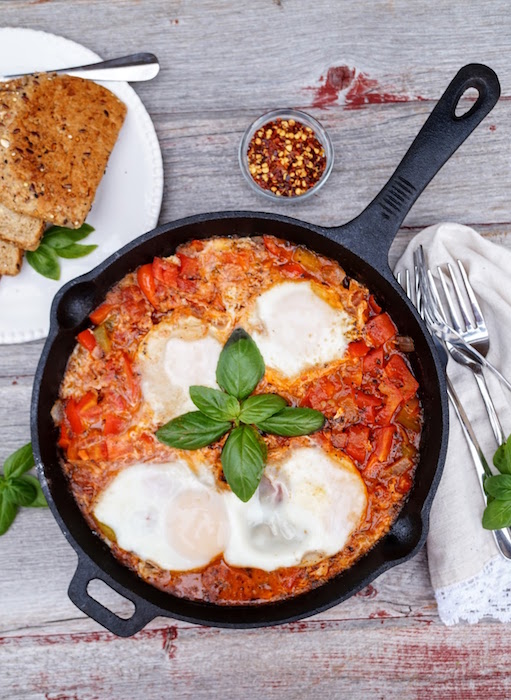 This traditional Israeli breakfast dish is the perfect addition to any brunch. It's a simple meal that tastes wonderful paired with crisp greens, like an arugula salad.
Makes: 4 servings, 1⁄2 cup portion each. Gluten-Free, Vegetarian.
Ingredients: 
1 tablespoon olive oil
1⁄2 cup (2 ounces) chopped onion
1 medium (5 ounces) bell pepper (any color), chopped
2 cloves garlic, minced
1⁄2 teaspoon black pepper
3⁄4 teaspoon Italian seasoning
1⁄8 teaspoon kosher salt
1 can (28 ounces) diced tomatoes, no salt added
4 large eggs
Red pepper flakes (optional garnish)
Cooked potatoes or toasted bread (optional for serving)
Place a large nonstick skillet over medium heat. Add the olive oil, onion, and bell pepper. Cook, stirring occasionally, 5 to 7 minutes, or until softened. Add the minced garlic, black pepper, Italian seasoning, and kosher salt. Stir and cook for 2 to 3 minutes, then add the tomatoes. Turn heat to medium, cover, and let cook for 5 minutes.
Remove the lid and create four small holes in the tomato mixture with a spatula or spoon. Carefully crack an egg into each hole, then cover the pan. Let cook for an additional 6 minutes or until the white is firm and the yolk is lightly set but still loose. (If you prefer a set egg with a firm yolk, cook for 8 minutes.)
Remove the pan from the heat and, if you like, serve with potatoes or toasted bread.
Kitchen Tip: Before adding each egg to the pan first crack it into a small dish. This makes it easier to remove any rogue shell and to pour it right into the hole.
Nutrition Information:
Per Serving: Calories 170; Fat 9g (Sat 2g); Protein 9g; Carb 15g; Fiber 4g; Calcium 66mg; Iron 1.4mg; Sodium 200mg; Folate 42mcg POSSIBLE ALLERGENS: Egg
2) Glazed Salmon with Mustard and Apricot Glaze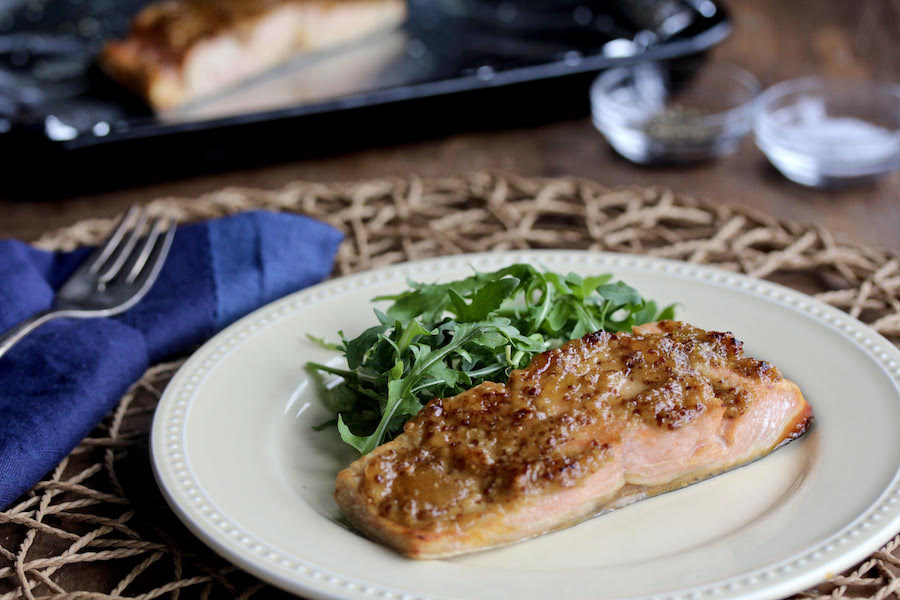 We recommend purchasing wild-caught salmon, if possible. Nutritionally speaking, wild-caught salmon is more nutrient-dense than farmed salmon—it has more zinc, iron, and potassium, and less fat.
Makes: 2 servings, 3 ounces each. Gluten-Free.
Ingredients:
Two 4-ounce wild salmon fillets, with skin
1 tablespoon stone-ground (whole-grain) mustard
2 teaspoons apricot preserves
1⁄4 teaspoon kosher salt
Black pepper, freshly ground, to taste
In the oven, place the rack about 5 to 6 inches away from the heat source. Preheat the broiler. Line a rimmed cookie sheet or broiler pan with foil and coat the foil with nonstick cooking spray.
In a small bowl, combine the mustard and apricot preserves.
Place the salmon on the prepared pan, skin side down. Sprinkle with salt and pepper. Place in the oven and broil for 5 minutes. Remove the pan from the oven and spread the mustard mixture evenly over the top. Cook the salmon an additional 5 to 6 minutes, or until the fish is just opaque inside when tested with a small knife, and the internal temperature reaches 145°F on a food thermometer.
Storage: Let cool, cover, and refrigerate in a sealed container for up to 3 days.
Nutrition Information:
Per Serving: Calories 200; Fat 8g (Sat 1.5g); Protein 26g; Carb 4g; Fiber 0g; Calcium 17mg; Iron 1.1mg; Sodium 380mg; Folate 29mcg POSSIBLE ALLERGENS: Fish
3) Tropical Chia Rice Pudding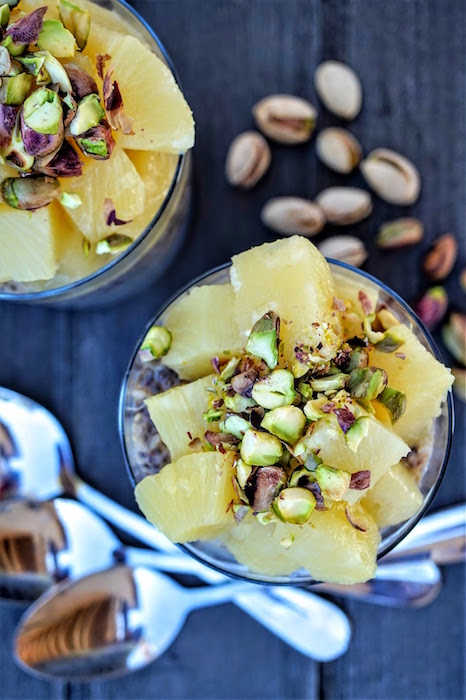 Full of antioxidants, vitamins, and minerals, this sweet treat is almost too good to be true!
Makes: 4 servings, 1⁄2 cup each. Gluten-Free, Vegetarian.
Ingredients:
1 cup water
1⁄2 cup brown rice, rinsed
1⁄4 teaspoon kosher salt
2⁄3 cup whole milk
2 tablespoons + 1 teaspoon honey
1⁄2 teaspoon ground cinnamon
1 teaspoon vanilla extract
3 tablespoons chia seeds
1 cup chopped pineapple
2 tablespoons chopped salted roasted pistachios
Pour the water over the brown rice in a medium pot. Add the salt and cook over high heat until the water begins to boil. Reduce the heat to low, cover, and cook for about 30 minutes. The water should be fully absorbed and the rice should be soft and chewy.
Drain any excess water and set the rice in a medium bowl. Add the milk, honey, cinnamon, vanilla extract, and chia seeds to the bowl, stirring together until combined. Cover and put in the refrigerator for at least 2 hours to allow chia seeds to absorb the milk and honey.
When ready to serve, portion the pudding into four bowls, then top each serving with pineapple chunks and chopped pistachios.
Storage: Refrigerate for up to 2 days in a sealed container.
Nutrition Information:
Per Serving: Calories 240; Fat 7g (Sat 1g); Protein 6g; Carb 40g; Fiber 6g; Calcium 116mg; Iron 1.4mg; Sodium 40mg; Folate 13mcg POSSIBLE ALLERGENS: Milk, Tree Nuts
---

Contributor
Elizabeth Shaw, MS, RDN, CLT, Nutrition Communications Consultant at Shaw's Simple Swaps, Fertility Nutrition Expert at BumpstoBaby.com, co-author of Fertility Foods.
---

Listen to stories, share your own, and get feedback from the community.