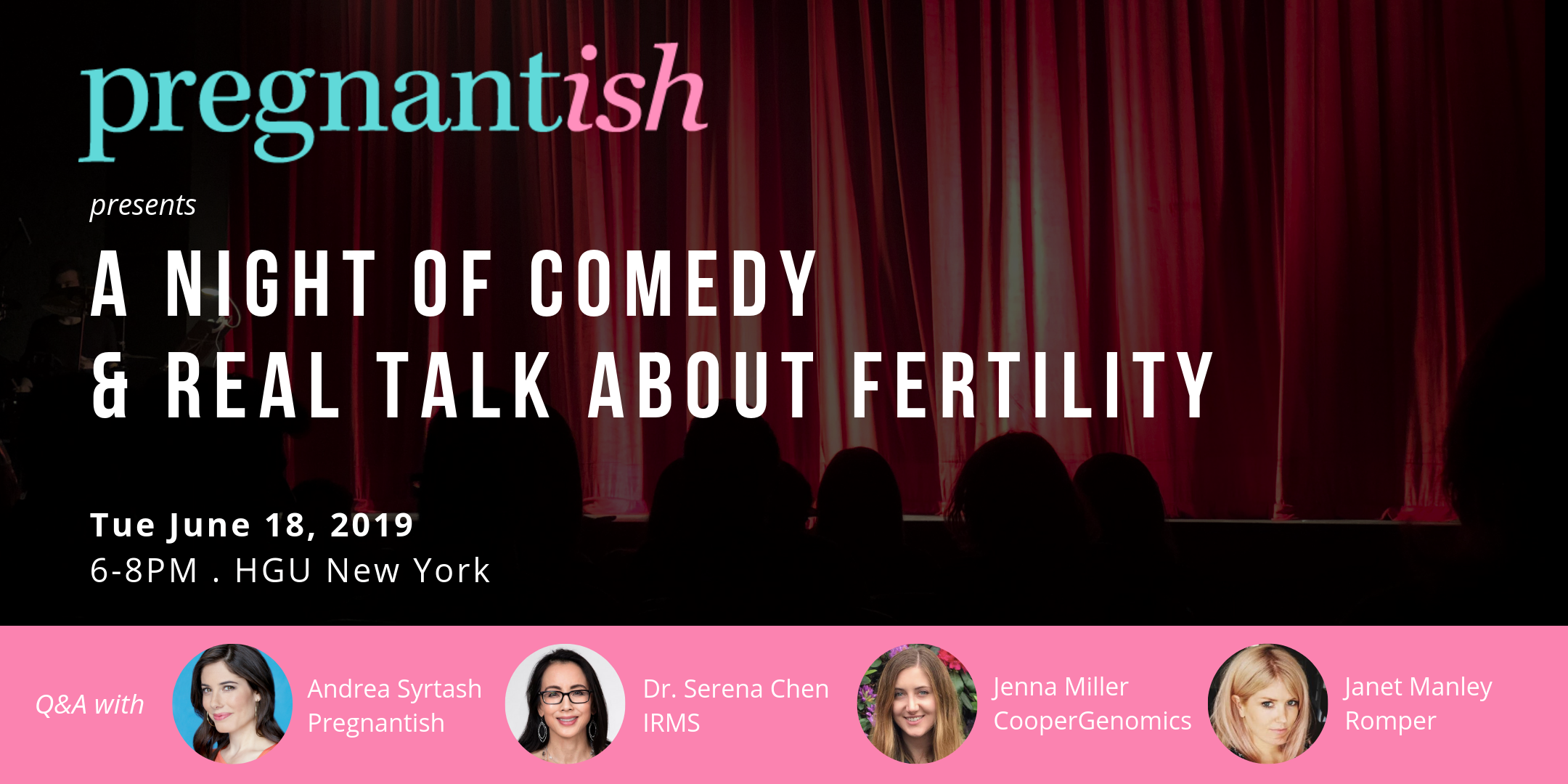 Venue:
HGU New York 34 East 32nd Street New York, NY 10016
pregnantish Presents: A Night of Comedy and Real Talk About Fertility
Join pregnantish and Romper on Tuesday June 18 from 6-8 pm for an evening of comedy and real talk about fertility!
TICKETS available on Eventbrite.
When you think about fertility treatments and infertility 'funny" isn't generally the word that comes to mind! But, sometimes it's good to laugh about the craziness of it all. The comedians you'll hear from have headlined on major networks and stages and will entertain us with their best fertility humor before our expert panel, including Dr. Serena Chen from IRMS, Andrea Syrtash from pregnantish and Jenna Miller from CooperGenomics, educate us on how to better navigate next steps. Romper's Deputy Editor, Janet Manley will moderate an insightful and inspiring conversation.
Whether you're 'fertility curious' and near the start of your journey or deep into IVF treatments and trying to cope with infertility, our panel will answer your questions on how to maximize your success and figure out your best next steps.
All participants will be treated to drinks, cheeses & charcuterie and our signature gift bags. As usual, this event has limited capacity and will sell out.
---
The Panel
Andrea Syrtash is a Relationship Expert and the Founder of pregnantish.com, the first media site exclusively dedicated to helping singles, couples & LGBT navigate fertility treatments and infertility. A regular on-air personality, Andrea's hosted television shows for Oprah's OWN and Fox; and regularly appears as a guest expert on TV and radio shows across the country. She's the author of popular books including, He's Just Not Your Type (And That's a Good Thing) and Cheat On Your Husband (With Your Husband). Andrea frequently speaks about how to improve relationships, most recently at the TEDx 'Makers' Conference. She is committed to breaking the taboo of infertility, and elevating the conversation about what it takes to start a family for millions of people today. Follow her @andreasyrtash.
Dr. Serena H. Chen graduated from Brown University, attended Duke University's School of Medicine and trained in Gynecology and Obstetrics and Reproductive Endocrinology & Infertility at the Johns Hopkins Hospital. She serves as Director for the Division of Reproductive Medicine in the Department of Obstetrics and Gynecology at Saint Barnabas Medical Center, and the Institute for Reproductive Medicine and Science at Saint Barnabas. She's been voted as a Top Doctor in reproductive medicine by publications including US News and World Report, Inside Jersey Magazine and NY Magazine.
Dr. Chen feels privileged to be at a program that is a leader in Assisted Reproductive Technology (ART), IUI, IVF, LGBT family building, egg freezing and PGD, offering individualized counseling, advice and treatment for a wide spectrum of reproductive issues. She strongly supports her patients' right to be informed and involved in their treatment decisions. Follow her @DrSerenaHChen
Jenna Miller, MS, LCGC is a board-certified and licensed genetic counselor. She holds a Bachelor of Science degree in Genetics and Biotechnology from Brigham Young University and a Master of Science degree in Human Genetics from Sarah Lawrence College.
Jenna began her career at Recombine providing genetic counseling to patients and physicians. She then moved into clinical diagnostics, eventually leading CooperGenomics' carrier screening clinical diagnostics team. Jenna recently became CooperGenomics' first clinical science liaison. In this role, she travels North America educating healthcare providers about genomics and genomic testing. She is passionate about genomics education, informed consent, and ethical approaches to genomic testing. Jenna lives in New Jersey with her husband and three cats named Kevin, Linda, and Mr. Chunk.
Janet Manley is deputy editor at Romper, a columnist at McSweeney's, and has been published by The New Yorker, ELLE, Buzzfeed, CNN, SELF, Gawker Media, Racked, MTV, The Hairpin, The Toast, The Millions, The Daily Dot, Sydney Morning Herald, The Frisky, and Glamour. She is Australian, has a Master of Arts in Creative Writing from UNSW, and is "Chief Editor" of her two toddlers.