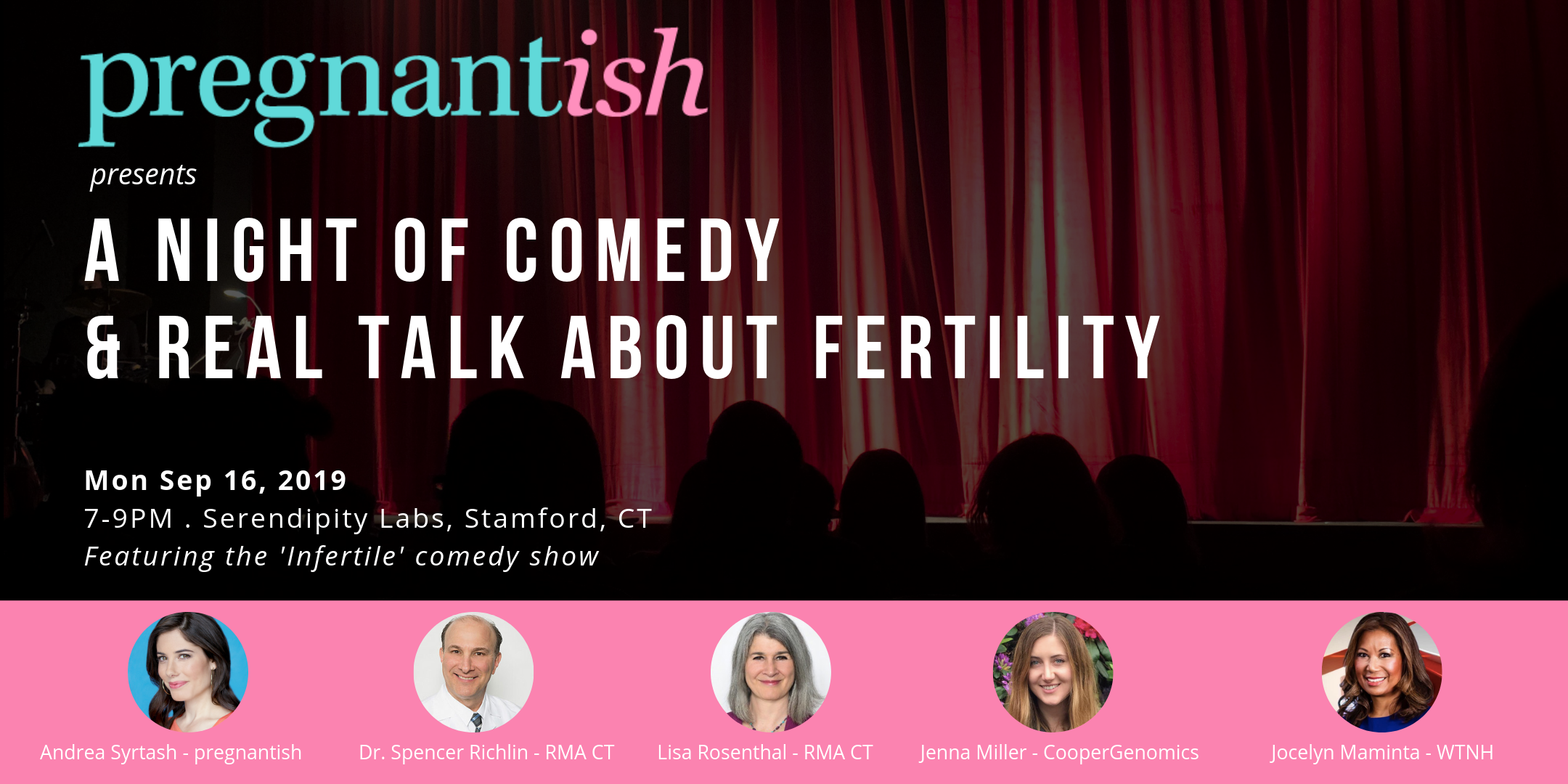 Venue:
Serendipity Labs, 700 Canal Street, Stamford, CT 06902
pregnantish Presents: A Night of Comedy and Real Talk About Fertility
On Monday night September 16, join pregnantish, RMA CT and Jocelyn Maminta from WTNH at Serendipity Labs Stamford for a night of comedy and Real Talk About Fertility.
After a reception where we'll enjoy light bites and entertainment, including comedy from New York's UCB (Upright Citizens Brigade Theater) show 'Infertile', we'll sit down and hear from our esteemed panel on how to best navigate next steps with fertility.
This conversation will be moderated by WTNH anchor, Jocelyn Maminta, and will feature Relationship Expert & pregnantish Founder, Andrea Syrtash, Reproductive Endocrinologist Dr. Spencer Richlin and Patient Advocate Lisa Rosenthal from RMA CT, and Jenna Miller, a genetic counselor from CooperGenomics.
TICKETS AVAILABLE HERE.
Whether you're just starting or you're many years into treatments, our experts will answer questions on how to best manage this stressful process and maximize your success with it. We'll also focus on unexplained and secondary infertility, when to consider using a donor or a surrogate and how to keep your relationships (including with yourself!) in balance.
All participants will be treated to light bites and drinks, great entertainment, an educational panel and our signature gift bag. Our goal is to have real talk about fertility so we all feel more informed and supported.
Pregnantish supports singles, couples, LGBTQ, and all are welcome to join.
This exclusive event has been generously supported by RMA CT, CooperGenomics and Galen.
This event has limited capacity and will sell out. Reserve your seat on Eventbrite.
The Panel
Andrea Syrtash
Andrea Syrtash is a Relationship Expert and the Founder of pregnantish.com, the first media site exclusively dedicated to helping singles, couples & LGBT navigate fertility treatments and infertility. A regular on-air personality, Andrea's hosted television shows for Oprah's OWN and Fox; and regularly appears as a guest expert on TV and radio shows across the country. She's the author of popular books including, He's Just Not Your Type (And That's a Good Thing) and Cheat On Your Husband (With Your Husband). Andrea frequently speaks about how to improve relationships, most recently at the TEDx 'Makers' Conference. She is committed to breaking the taboo of infertility, and elevating the conversation about what it takes to start a family for millions of people today. Follow her @andreasyrtash.
Dr. Spencer Richlin
Dr. Spencer Richlinis Surgical Director and a Partner in reproductive endocrinology at Reproductive Medicine Associates of Connecticut (RMA of Connecticut). In addition, he is Division Chief of Reproductive Endocrinology at Norwalk Hospital. Dr. Richlin is Board Certified in both Reproductive Endocrinology and Obstetrics / Gynecology. He feels strongly about teaching the next generation of medical providers, and does so by training the OB/GYN residents from Stamford Hospital and providing mentored clinical experience to students at Quinnipiac University Medical School. Furthering his mission of giving back to the community, Dr. Richlin also focuses on advocacy in the field of fertility. He has been a regular attendee of Resolve's National Advocacy Day where he speaks to state representatives, sharing his experience with and conviction for Connecticut's state mandate and insurance coverage for fertility treatment.
Lisa Rosenthal
Lisa has over thirty years of experience in the fertility field. After her own personal infertility journey, she knew that improvement was both possible and desperately needed for comprehensive services, support and advocacy. She was determined to help others undergoing fertility treatment and is the founder of Fertile Yoga and Ladies Night In. These two popular fertility patient programs are supported by RMA of Connecticut, where Lisa has also served as Patient Advocate for the last twelve years. Ms. Rosenthal was recently named a Wego Health Award Finalist, is a first author of a research study accepted as a poster at ASRM in 2019, is a board member of Resolve New England, and is the founder of RMA of Connecticut's PathtoFertility blog.
Jenna Miller
Jenna Miller, MS, LCGC is a board-certified and licensed genetic counselor. She holds a Bachelor of Science degree in Genetics and Biotechnology from Brigham Young University and a Master of Science degree in Human Genetics from Sarah Lawrence College.
Jenna began her career at Recombine providing genetic counseling to patients and physicians. She then moved into clinical diagnostics, eventually leading CooperGenomics' carrier screening clinical diagnostics team. Jenna recently became CooperGenomics' first clinical science liaison. In this role, she travels North America educating healthcare providers about genomics and genomic testing. She is passionate about genomics education, informed consent, and ethical approaches to genomic testing. Jenna lives in New Jersey with her husband and three cats named Kevin, Linda, and Mr. Chunk.
Jocelyn Maminta
Over her distinguished broadcast career, Jocelyn Maminta, Good Morning Connecticut at Nine Co-Anchor and Emmy Award nominated News 8 Medical reporter, has anchored and reported for televisions stations in North Carolina, Buffalo, Milwaukee, Texas and at News 8 in Connecticut. She serves on the Board of Friends of Yale-New Haven Children's Hospital, the Arts Council of Greater New Haven, and is a member of the Junior League of Greater New Haven.