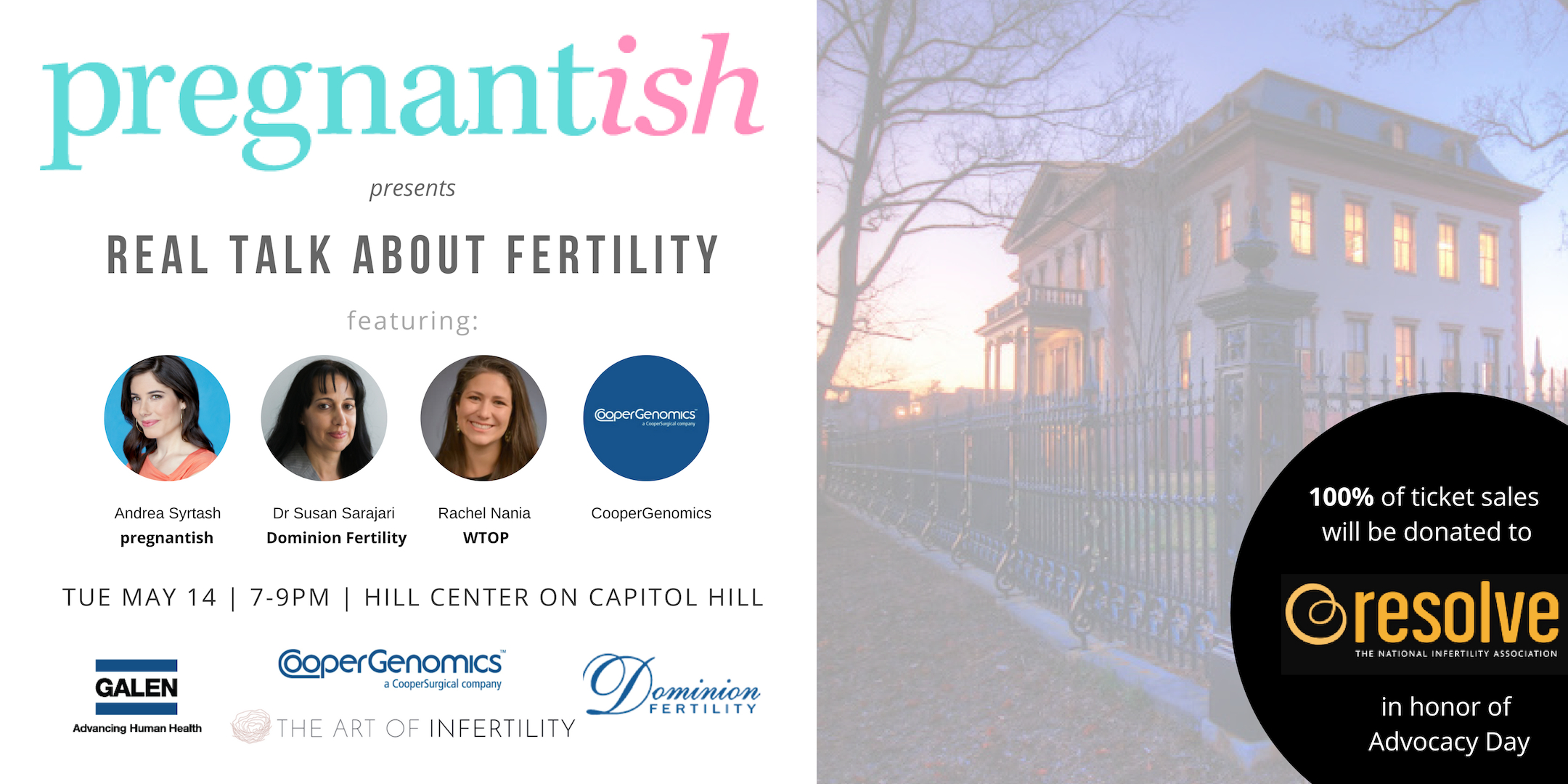 Venue:
Hill Center, 921 Pennsylvania Avenue South East, Washington DC
Real Talk About Fertility on Capitol Hill: A pregnantish Advocacy Day Event
On Tuesday May 14, the night before Advocacy Day, join pregnantish for our debut event in Washington DC! After an inspiring program with The ART of IF (Infertility), we'll hear from our panel on advocacy, how to navigate unexplained infertility and next steps with treatment, how to manage relationships and infertility and more.
Tickets here: https://www.eventbrite.com/e/real-talk-about-fertility-on-capitol-hill-a-pregnantish-advocacy-day-event-tickets-59851451302
Our expert panel, moderated by Rachel Nania from WTOP (DC's #1 All-News radio station), will include Dr. Susan Sarajari from Dominion Fertility, Andrea Syrtash from pregnantish, and a genetic counsellor from CooperGenomics. We will also hear from a patient advocate, who will share why it's essential we elevate this conversation and how we can all get more involved in the effort to gain access to necessary treatment.
The ART of Infertility will be a special guest for the evening, presenting a sneak peek of images from their photovoice project Art, Access, Advocacy. They will also be hosting button-making stations where attendees can choose, customize or create their own Advocacy Day buttons to wear on May 15-16, 2019 on Capitol Hill.
Attendees will also be treated to light bites and drinks and a special gift bag. Proceeds from ticket sales will go to RESOLVE: The National Infertility Association.
This event is open to everyone, whether you're 'fertility curious' or many years into trying to build your family.
This exclusive event, which has been generously supported by CooperGenomics, Galen US, Dominion Fertility and First Response, has limited capacity and will sell out. Get your tickets here.