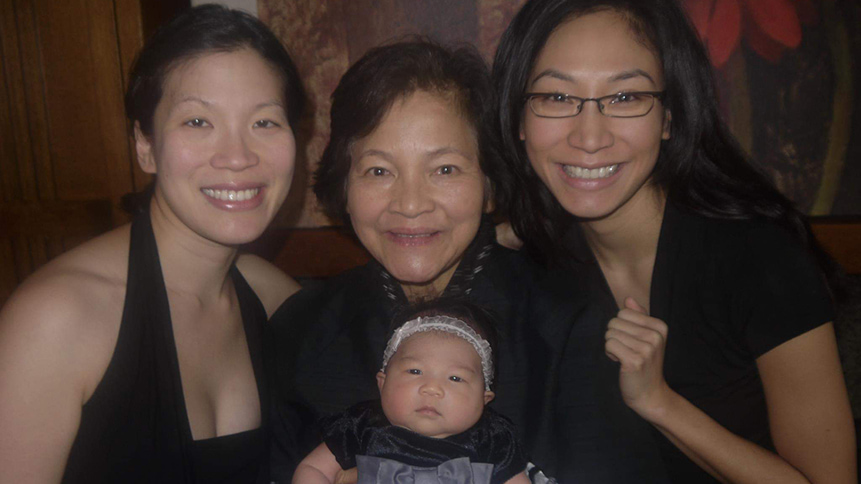 Infertility is an equal opportunity disease; it strikes without regard to race or class.
Yet we don't hear too many Asian voices addressing the struggle to have a family. People of Asian heritage are affected by infertility at the same rate as everyone else. In many cases, our diagnoses and experiences as a racial group are internally similar, but different from other races.
A 2007 study published in the Fertility and Sterility journal showed that East Asians achieve lower pregnancy rates than Whites after using assisted reproductive technologies. In both East Asian and South Asian women, poorer outcomes from fresh embryo transfers, but not from frozen embryo transfers using donated eggs, seemed to point toward negative effects on the uterine environment due to ovarian stimulation and not a difference in egg quality compared to Whites.  
Dr. Eve C. Feinberg, currently Medical Director of Northwestern Medicine, embarked on a study of racial disparities in IVF outcomes among patients in multicultural Chicago when she was at Fertility Centers of Illinois.  For the Asian population, she concluded, "Asian women required a longer duration of stimulation, had fewer eggs retrieved, and had fewer surplus five-day embryos to freeze compared to White women.  Asian women also had a significantly lower clinical pregnancy rate (31.4% vs. 36.2%,) and live birth rate (24.0% vs 30.7%) compared to White women."
"It hasn't been well-substantiated in the literature but it does seem like egg supply tends to be more of an issue in Asian patients," Feinberg said by phone. "They often times will have diminished ovarian reserve, relative to their Caucasian counterparts. Response to stimulation is often different, lower. Indian women have more polycystic ovarian syndrome (PCOS)."
Studies of South Asian women with PCOS show that they have higher levels of insulin and testosterone, and require a lower dose of hormone injections to get a higher number of eggs retrieved; however, it is easy to overstimulate South Asian women's ovaries, which can lead to ovarian hyperstimulation syndrome.
Feinberg identifies some challenges in research. "We haven't really looked at data in the right way. When we lump all Asians together, I really don't think South Asian as much as I think Chinese, Japanese, Korean. The problem is when you use Asian as a category, it's so heterogenous that you're not really able to get that data."
With these race-specific conditions, it is critical for people of Asian heritage to seek family-building support and resolution sooner than later, especially if they will pursue treatment.
Unfortunately, couples and women of East Asian descent wait longer before consulting a doctor about fertility issues, says Dr. Victor Fujimoto, director of the IVF program at University of California, San Francisco. A former fertility patient himself, Fujimoto co-authored the aforementioned 2007 study. The team's research showed that more than 40 percent of Asian patients delayed meeting with a physician at least two years after facing problems. Social and cultural factors may explain why.
My Story
In exactly this order I personally have experienced: pregnancy loss, a primary infertility diagnosis, and motherhood by spontaneous conception, followed a couple years later by frustrating – and ultimately unfruitful – attempts to freeze eggs with diminished ovarian reserve.
I didn't realize I needed to see a doctor after a year of negative pregnancy tests. I only booked a fertility evaluation at the urging of a white friend who resolved her secondary infertility using IVF. To this day, I'm thankful for her sounding the alarm, and for being in the right place at the right time.
I was uneasy about seeing a fertility specialist in this foreign world of reproductive medicine, so I selected an Asian American doctor with hopes that he would be culturally compassionate. Turns out that every doctor has to be measured on his or her individual merit and bedside manner. We got more of a brash scientist than a warm and fuzzy "cousin."
Among other heart-stabbing comments, he told me that I was at "the bottom of the barrel" on my eggs and that the eggs remaining were low quality.
As a nod to the pearls of the Orient, and to the doctor's comment, I gave my daughter the middle name Pearl when she was born. I had found a pearl at the bottom of that barrel!
Celebrities Help Break the Stigma
Celebrities help normalize life situations when they use their public platforms to educate and de-stigmatize issues.
The Asian American community has the unapologetic Chrissy Teigen, a half-Thai model, author, and TV host who has shared that she and crooner husband John Legend went through IVF to build their family. She seems to be an outlier, though. Lucy Liu was 46 when she became a single mother by choice using a gestational carrier, but Liu has never mentioned fertility issues as the reason — only that she was too busy with her career. On the miscarriage front, comedian Ali Wong (Baby Cobra) and Shay Mitchell (Pretty Little Liars) have shared a loss each with the public.
Sex Talk Is Taboo
Sex talk among Asian generations is just taboo. Whenever I've broached the topic of sex with my parents, they always seem embarrassed, annoyed, or mad. I learned how babies are made through illustrations in the book Our Bodies, Ourselves.
If sex talk is off limits, especially between generations, discussions about the inability to conceive through sex are even less likely. If Asians are having trouble conceiving or maintaining pregnancy, it's such an unexpected situation – so foreign – that the culture as a whole doesn't have a script for what to say or do. It can become an isolating experience.
Cultural Expectations Prevent Discussion
Carol Gavhane, a biracial Korean/white woman who had secondary infertility, grew up exclusively with the Asian side of her family. Her husband is biracial Indian/white. Gavhane believes infertility isn't discussed among generations because of the immigrant narrative of meeting expectations and skirting disappointment.
In Asian immigrant families, she says: "Culturally, our parents want us to have a good life and we don't want them to worry, so we just take on hard stuff ourselves. Cultural shame still lingers. That's different from traditional American culture where it's a little more open, where you can talk about these things."
In order to overcome the stigma of infertility, it's important to identify the source of guilt, shame, and embarrassment. Infertility stigma in the Asian-American community seems to stems from the blame our culture puts on the woman, and the value that we place on family expansion. Often in Asian families, the pressure is not only to have a child, but to have a son.
In the Asian character films The Last Emperor and Joy Luck Club, when the husbands repeatedly refuse to engage with their young wives on the marital bed (one husband had barely reached puberty, the other was gay), the women were the ones blamed for the failure to produce heirs.
Social pressure and embarrassment can be compounded by the response of well-meaning but ignorant friends and family, who may offer unhelpful suggestions and comments.
Reggie Pope of Seattle, now expecting her first child with husband Michael, struggled for eight years, with four uterine surgeries, several IUI and IVF cycles, and two losses. "Unlike my Caucasian in-laws in the Midwest, I don't feel that my family in the Philippines truly understood that there were medical reasons contributing to our infertility…Several family members told me that I exercise too much and some felt that my failure to attend church on a regular basis was preventing me from getting pregnant."
Immediately after my own Christmas Eve miscarriage in 2009, I told my mom in one breath that I'd been pregnant and lost the 14-week pregnancy. The next morning in the kitchen, she asked, "What's wrong with you? Nothing like that ever happened to me."
My mom's question stunned me into silence, but I later realized that her confusion was likely cultural. She hadn't grown up talking about fertility; for that reason, she didn't tell me until I was 38 that she had early menopause. If fertility was never discussed, then medical treatment was a definite anomaly. The first thing my mom asked when I told her that I was going to freeze my eggs was whether a future child would have birth defects.
Fewer Donor Options
My fertility journey included exploring every hypothetical option for providing my Pearl girl with a future sibling. I corresponded with a generous Asian American couple who offered to donate their remaining embryo to me after their two children were born via IVF.
Before their incredible offer, however, I was in a doctor's office contemplating third party reproduction options. Dr. Elizabeth Barbieri at Oregon Reproductive Medicine told me that I was more likely to find biracial embryos (half Asian) than full Asian embryos. "There are just more of them out there," she said, referring to more biracial couples than full Asian couples both pursuing treatment and eventually donating leftover embryos. In many cases, a donor's egg or sperm is involved in the creation of those embryos.
Finding the right donor of Asian descent can be difficult when the pool is limited. When our RESOLVE support group toured a local sperm bank, an Indian woman in our group was disheartened to find that there was only one Indian sperm donor in the entire catalog. I spoke with a chief executive of that sperm bank, who did not see the importance of proactive recruitment among ethnic donors. He didn't have the frame of reference to get that more expansive donor choice is an issue for people of color. Perhaps this is why certain cities with higher ethnic populations must be targeted in the search for the right gamete donor, and why many even Western egg banks recruit overseas donors to fill their Asian donor pools.
"A Japanese couple doesn't want a Korean egg donor," Dr. Feinberg said. "They want a Japanese donor." Northwestern flies egg donors in from California, a state with more Asian donor availability.
Maya Grobel Moskin, who documented her family-building journey in the film One More Shot, said that in the donor gamete space, "It seems like there are fewer choices available and often Asian gametes are either all lumped together (as if all Asian donors from Japanese to Chinese to Indian, etc. are the same) or they are more expensive. When looking into the possibility of a half-Japanese egg donor we found nothing for a while, then we came across one young woman who was reserved within minutes."
To many Asians, donating sperm or eggs may seem like more of a business transaction than a humanitarian one. Even worse, gamete donation may be viewed intraculturally as selling one's blood line for profit – an action frowned upon since the blood line is sacred in many Asian cultures (so much so that only until recent years have domestic adoptions in Korea become more socially acceptable).
This continued void has in part been created by Asian cultural shame and lack of fertility awareness. Feinberg says: "Asian patients I've talked to say they just didn't talk about reproduction at home. That's part of why they don't voluntarily sign up to become an egg donor." Asian women are not as aware of the opportunity or the need to support one another in that way.
More Information Can Lead to Better Outcomes
More research, more discussion, and more fertility education can raise awareness in the greater public and reach more Asians in the West. Feinberg believes the key to successful family-building outcomes lies in customizing patient care.
She says: "We're taught this political correctness, that we're all the same, and yes our rights are obviously all the same. Everybody should be treated equally, but I think it leads to better individualized care for patients if we take into context their ethnicity, their individual medical factors that contribute to that, and their race and their culture in terms of what prompts them or what barriers may be in place to seeking care."
---
Contributor
Annie Kuo is a Seattle journalist who covers the Asian American community and other underrepresented voices. She or her work has appeared on NBC Asian America, Huffington Post, International Examiner, Seattle Globalist, and Seattle Weekly. As a RESOLVE Ambassador, she is an infertility support group host and legislative advocacy trainer. Annie will launch Asian Health Studios in 2019. Check out anniekuo.org.
---

Listen to stories, share your own, and get feedback from the community.