Sperm Donors Help Couples with Male-Factor Infertility, the LGBTQ+ Community, and Solo Moms
Presented by California Cryobank
We all learn the "birds and bees" teaching that to make a baby you need eggs from mom and sperm from dad.
But sometimes facts are wrapped in a fairytale not everyone can tell.
That doesn't mean you can't write your own story and need to give up the dream of having a family.
Whether male-factor infertility is affecting your ability to conceive, or you're two moms or a single mom by choice (solo parent), the option of working with a sperm donor is more viable than ever.
In recent years, sperm donations have helped create nearly half a million families, with an increase seen in the last 15 years. That growth is attributed to greater awareness and access.
For more than 40 years, California Cryobank and other sperm banks have helped bring donors and families together.
California Cryobank has a database of hundreds of donors, but only one percent of applicants are accepted due to strict requirements.
California Cryobank has a database of hundreds of donors, but only one percent of applicants are accepted due to its strict requirements. Donors are considered based on multiple specimen quality assessments, physicals, infectious disease testing, genetic and psychological screenings, personal and family medical history, and a criminal background check.
Sperm banks not only help make connections but also manage the medical, legal, and privacy issues that go along with such a pivotal life decision.
Jaime Shamonki, MD, Chief Medical Officer of California Cryobank, says: "The purpose of a sperm bank is to optimize the health and safety of the people who are trying to build families with us. We do a lot of work to support donors and the client families even long after children are born."
Cryobanks are helping a broader spectrum of people than they were 20 years ago. Shamonki says that thanks to "social progress, there's more acceptance of and support of non-traditional families. I don't even like using the phrase non-traditional. These are just families. We have seen an explosion in interest in people building families."
California Cryobank also offers a dedicated client services team to these families, helping guide each through the challenging but exciting process of choosing a donor.
Here are three perspectives from people who found hope and happiness with California Cryobank:
Hannah and Eric…faced a disheartening male-factor infertility diagnosis.
Kylie and Christina…started LGBTQ+ family planning on the first date.
Hera and Aisha…had children solo and advocate that Black women have options.
Hannah and Eric Snyder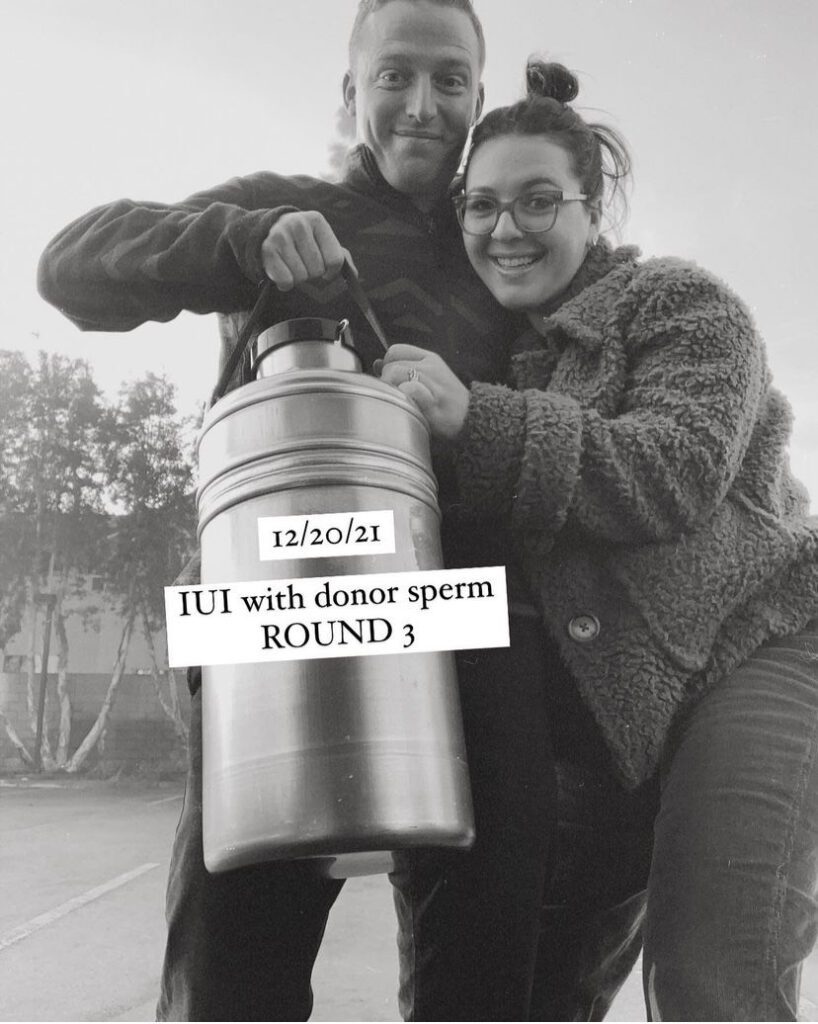 Grateful for Donors Giving Them a Chance to Be a Mom and Dad
What has your journey to building a family been like?
Hannah: "We got married in April 2018. We started trying by October. He was 25 and I was 26. We were surprised that after a year of trying consistently, nothing happened. In August 2020, we started working with a fertility doctor. We started out with all my testing. [They did] laparoscopic surgery and they found a little bit of endometriosis and removed it.
"We moved on to Eric at the end of 2020. He did his first semen analysis, and it came back as zero. We did it again, and it came back to zero. He then was referred to a male urologist where they did [a more detailed] semen search and analysis. It came back as zero. Everything else was fine. His testosterone was off the charts high. He had an investigative procedure where they took 17 pinprick samples from each side. The specialist called us back a month later, which ended up being on our wedding anniversary and said: 'I hate to make this call, but you have no sperm.' It was an arrow to the heart.
"We looked at sperm donation and adoption domestic and international. We want to do all the things, but we also have to be realistic. I hate that money plays a part of this but we've already spent probably $20,000 in the past year. My husband said—we need to start from the least expensive, which was sperm donation…We did our first round of IUI in September 2021. We bought six vials and we're already three in. We're taking it literally one day at a time.
"The journey has been really hard and the acceptance of not having any sperm has been the most challenging, but Eric says he is grateful that we live in a time where there are so many alternative options."
How did you choose California Cryobank?
Hannah: "We jumped onto the California Cryobank site after doing research and hearing that this is one of the most popular banks. It's big, it's trusted, they have rigorous standards applied to the donors. We signed up for the account that gave us access to audio files and interviews, their baby pictures (or adult pictures if they have them). We wanted to be able to see all the details. We thought there were going to be thousands of donors, and the fact that there were only a couple hundred was so interesting to us and gave us so much gratitude. We are grateful for donors to give people like us who desperately want a family the ability to try."
How did you choose your donor?
Hannah: "It's really easy to over-romanticize the process and set your expectations a little high that this needs to be a perfect specimen. But these are some great human beings. Reading about each person, each donor's story reminded us that these are real people that are putting themselves out there.
Reading about each person, each donor's story reminded us that these are real people that are putting themselves out there.
"Eric thought that he wouldn't like the donors. But the recorded interviews we listened to were pretty polished. We both thought hearing their voices and being reminded that these are real humans that were putting themselves in this position was really encouraging.
"Eric says we chose our donor based on a similar appearance to him. We also liked that he was educated, he's healthy, and he was pretty decent looking, but when we heard his voice, it wrapped everything up. He was very passionate about the things he was interested in, whether it was music, cooking, people. The audio interview humanizes the process. It allowed us to be so much more connected to that donor."
Any other tips for choosing a sperm donor?
Hannah: "Don't get completely attached. It might not work for us with this donor because he's sold out. We might have to start from square one. Also, be on the same page that this is the path you want to take. Remember that the reason you're at this point is not your fault. It doesn't make you less than a woman or a man. We shouldn't be ashamed of something that we can't control. Also, remember that these people are simply donors. They're not "dad". The real father is your husband."
Kylie and Christina Sabillón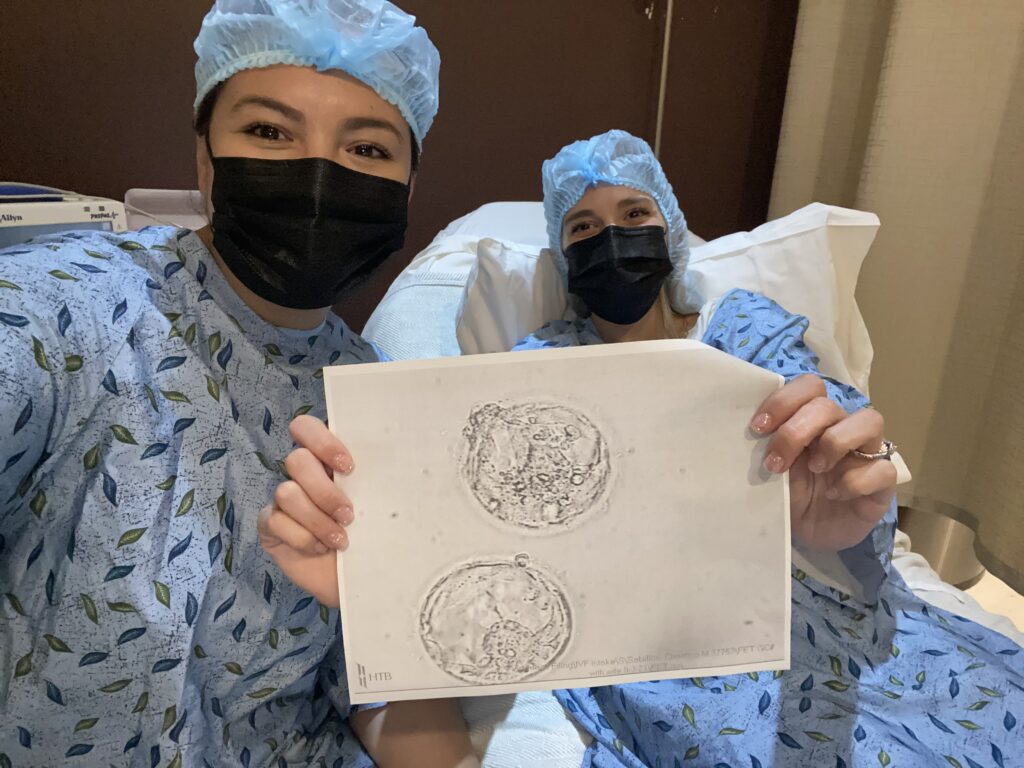 Two Moms Expecting and Excited Thanks to Donors
What has your journey to building a family been like?
Christina: "We met in March 2020 and by the end of the first date, we knew we wanted to get married and have a family together. The pandemic sped things up for us, too, because it gave us the opportunity to spend more time together. We got married nine months from the day we met."
Kylie: "I had been married for nine years and tried for 2 1/2 years to get pregnant with my husband without success."
Christina: "By July 2021, we started monitoring cycles and began looking for a sperm donor. We went on a second honeymoon, and by early August I started the hormone injections. We combined my eggs with the donor sperm. By late August we had seven embryos, and did testing…We did reciprocal IVF so we had two embryos transferred to Kylie, one made it, and now…"
Kylie: "I'm 25 weeks pregnant!"
How did you choose California Cryobank?
Kylie: "My biggest concern was not knowing where to go for what we needed. We first heard about California Cryobank from our fertility clinic team. They said that their patients had said it was 'smooth sailing' to navigate the donor process. Then we looked at reviews–about how different families handled working with a sperm bank."
Christina: "We started following different couples on TikTok who had gone through IVF and reciprocal IVF. We looked on Instagram and saw a promotion to get a *free subscription upgrade for California Cryobank, which allowed us more information about donors. That helped!"
Kylie: "We followed one same-sex couple on IG that used California Cryobank and we fell in love with them. We reached out to them and they reached out to us. We specifically looked for LGBTQ+-welcoming sperm banks. We liked that California Cryobank has a whole website tab for LBGTQ+ clients."
*Pregnantish Community! California Cryobank has generously offered our community a special code to access FREE Level 2 Subscription (a $145 value!) and it can be applied to a Level 3 Subscription, bringing your total cost down. Go to cryobank.com and use code PREGISH to get this free offer for the next 30 days!
How did you choose your sperm donor?
Kylie: "It took us a few days but many hours over those days. We were overwhelmed, asking ourselves: 'How do we choose?' We looked at many donors. (It was like swiping profiles on Tinder!) Our #1 issue was health. We looked at different races, ethnicities, but health compatibility was our focus. It was also important that we chose a donor that was open to the future child knowing who he is, if she decides she wants to know when she turns 18. When we finally found a donor, we learned that there was only one vial of his sperm left. "
Any other tips for choosing a sperm donor?
Kylie: "We wanted as much information as we could get. We got the flash drive with more info and pictures. It was cool that California Cryobank shares even "first impression" comments about the donors. Personality is a big thing."
Christina: "We love the free cord blood and tissue storage for a year after the baby's born. [Without access to the donor], it's a relief to have that health backup if it's needed down the line."
Hera McLeod, Aisha Jenkins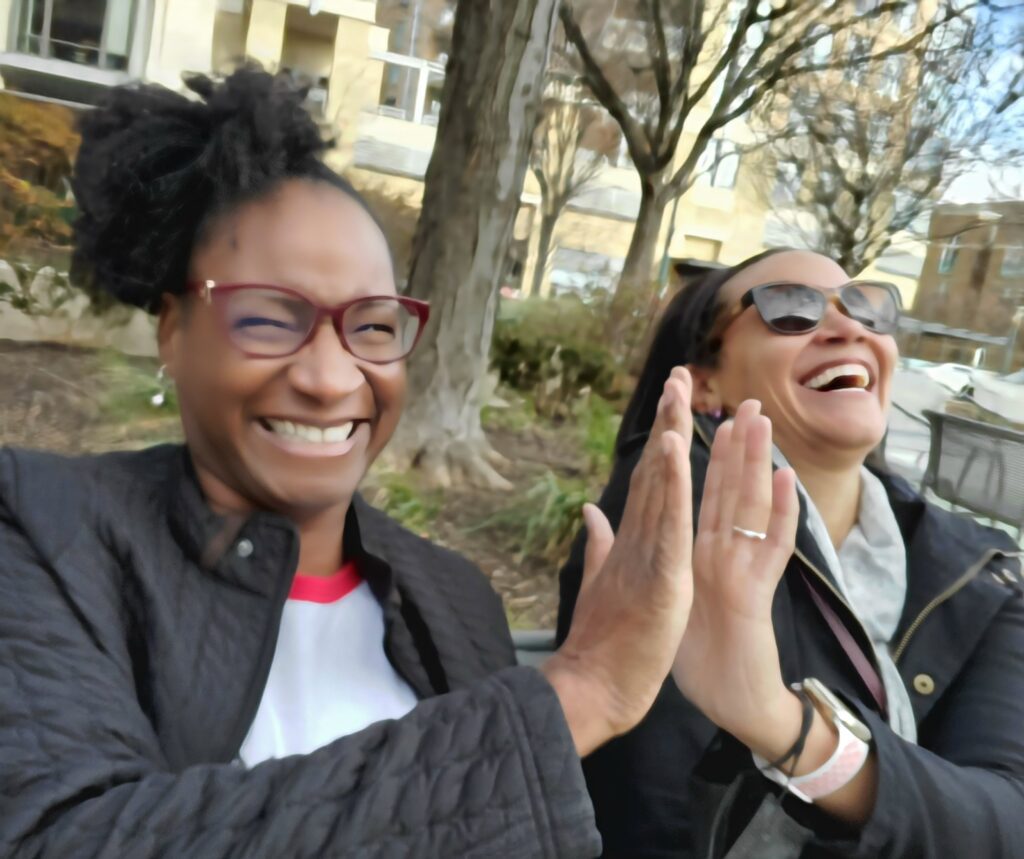 Black Single Moms By Choice Who Want to Spread the Word
What has your journey to building a family been like?
Aisha: "I've always wanted to be a mom. During my teenage years I was a firm believer that first came love, then marriage, then children. I married my college sweetheart, we graduated, got jobs, and settled into married life. Only it was different from the fairytale. We divorced after 4.5 years of marriage. I was 29. At 32, with no suitable relationship in sight, I cried one night to my stepmother and she said: "'Why don't you do what Halle Berry said she might do and get a sperm donor and have a baby.'
"I finally took the plunge at 37. My fertility clinic told me to pick a donor from California Cryobank. I became pregnant with my daughter on the second try with IUI and I have been a very content Single Mother by Choice (SMC) ever since. My second daughter is a result of an egg and sperm donor.
I didn't think at 36 that I would have one child, much less two children. It's just such a great option for people who didn't think that they would have kids otherwise.
Hera: "The catalytic event in my life that set me on the path to being a SMC was the death of my son. I fought for 15 months to protect him from his abusive father. In 2012, when he was just 15 months old his father drowned him.
"After that type of trauma, I knew that I never wanted to co-parent. Once I realized getting pregnant with donor sperm was a viable option, I never looked back. I'm thankful every day that donor sperm was an option for me to create my family. My two girls have the same donor from California Cryobank – one was via IUI when I was 33 and the other via IVF when I was 38."
How did you meet each other and start Mocha SMC?
Aisha: "That statement my stepmother made about a Black celebrity considering using a sperm donor was important. Many Black women may not think that this is a path they can take because they don't know any Black SMCs. Hera and I started the Mocha Single Mother by Choice podcast in order to change that perception. We are volunteering to share our lives so that Black women can see that this can be their choice, too. We wanted to make this option more accessible.
"The Mocha SMC podcast became official in January 2021 with the release of our first episode. Before that the Mocha SMC Facebook space immediately had a "hey girl hey!" feel right from the beginning and by design. We knew instinctively that the community would just grow and it has. Hera and I became good friends. The relationship actually feels like a cross between friend and sister, because due to the nature of the podcast we are required to be very vulnerable and honest with each other. It's one of my more meaningful relationships since becoming a mom."
Hera: "What Aisha said! I don't think either of us knew how big and how fast the group would grow initially. At first, we were just a few girlfriends looking for a place where we could candidly speak about things that we couldn't speak about in mixed company. Over the years, it became clear that we were really filling a giant void and these women started coming to us for advice, guidance, or really just to bounce ideas off of as a girlfriend. And yes, not only am I thankful for the space because it's given me a sisterhood that I didn't even realize I needed, Aisha has been one of my best mom friends."
How did you choose California Cryobank?
Aisha: It was the cryobank my clinic recommended. The doctor said that there are a number of banks, but we want to make sure that we use the ones that have the best reputation and things of that nature. It's such a big thing ordering sperm. No longer is trying to conceive just an idea in your head. That's your first affirmative step. You're paying money, you're choosing the other half of your child's genetic material. You're thinking that there are going to be so many hoops to jump. You're going to have to share all this information. But really it was like searching for a dating profile, entering in your credit card information. It was really streamlined, which I wasn't expecting."
Hera: "It was the bank where I found a donor who had a similar ethnic mix to my own. I am thankful that when I found him, I immediately bought vials, because he sold out quickly. I'm also thankful he agreed to donate more, years later, because I wouldn't have found a donor with that particular racial makeup that I was looking for, or it would have potentially taken a while."
How did you each choose donors?
Aisha: "That part was kind of fun—imagining your future child. After getting over the initial shock of finding only two Black donors meeting my criteria, I went back and did a search based on phenotype: skin color, eye shape and color, hair texture…features other than race. It was important to me that my daughter looked like she belonged to me, that I not be mistaken for the nanny, and that her hair would have enough texture to hold braids or cornrow hairstyles that I grew up with. I am happy to have my daughter."
Hera: "It was really important to me that my kids look like the donor and that they also look like me. I wanted them to be Black and I never wanted people to think I was their nanny. When I was about eight years old I was held at the Mexico-US border for a few hours because the border patrol officers didn't believe my mother was my mother. We look alike, but they couldn't get past the fact that our colors didn't match. This bothered me a lot as a kid and I didn't want to have to relive that trauma as a parent."
Any other tips for choosing a sperm donor?
Aisha: "I would advise any SMC not to get caught up in a particular donor. Have a bench of back-up donors so that you have options. The donor that ultimately gets you pregnant is your donor.
"I didn't think at 36 that I would have one child, much less two children. It's just such a great option for people who didn't think that they would have kids otherwise."
​Hera: "I also advise women to think about how many children they want to have and plan for that. While you might not know whether you'll want more than one, if you think you might…buy enough sperm to give you the option of not having to choose a different donor.
"I also think women should be willing to switch if the donor you choose initially isn't working. It's also important to think about a day when your child asks you why you picked that donor, because they probably will. I am ready to explain exactly why and what about his profile I loved…down to how he explained his relationship with his sister.
"In general, we advise people to take control of your fertility so even if [you] ultimately don't want to become a solo mom…recognize this as an option earlier in life. You can know—'I'm in my 20s. Maybe I can freeze my eggs at this point. It gives me the option to suspend my fertility for a little bit longer.'"
---
While having a family using a sperm donor may never have been your dream, it opens up your options and gives you a sense of control you might not have expected.
Dr. Shamonki of California Cryobank says: "I have never in my eight years of being at California Cryobank met a single person who took their baby home after this process and said I don't like this one, I want a refund…This is going to be a child you're very, very much in love with."
For another California Cryobank solo parent success story, check out the pregnantish podcast, How this Matchmaker Chose Her Sperm Donor + Why She Believes Solo Parenting is Great for Her Love Life.

To learn more, visit California Cryobank
[interviews have been edited and condensed for clarity]
---

---

Listen to stories, share your own, and get feedback from the community.