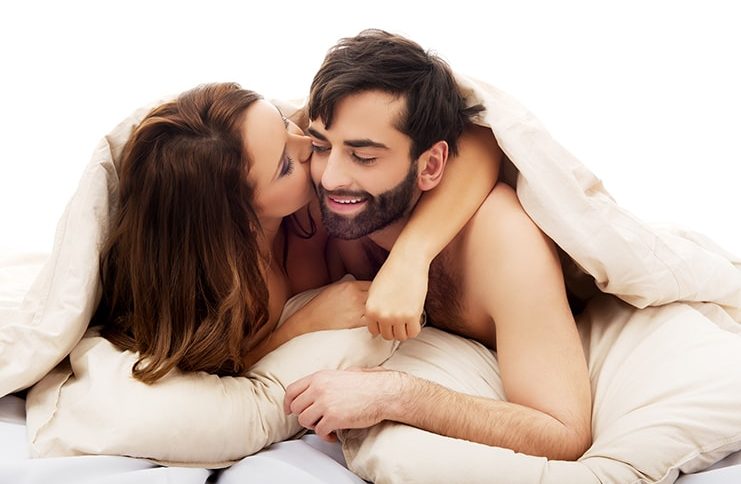 "We have to have sex tonight. I'm ovulating!"
"My fertile windows are these days, okay?"
"Stay on top of me!"
"Hold my legs up!"
"The doctor said we should have sex tomorrow and then stop."
Any of these completely unsexy statements sound familiar?
The cliché is true. When you're younger, you do everything to make sure you don't get knocked up. You even worry that, even though you're on the pill and he's wearing a condom, his 'pre-ejaculatory' fluid could impregnate you!
Then, when you're at a point where you're trying to make a baby, you do everything to try to get knocked up. Sex with your partner is perfectly timed, perfectly positioned, and perfectly executed…and somehow, it doesn't seem to lead to baby. Now, sex may feel like work.
When you're getting down for the sole purpose of creating a life, it makes sense that you and your partner may feel a lot of pressure. It's easy to become not only impatient and unmotivated, but to have your baby-making moves become super mechanical just to get it done.
Whether you're seeking help from science, or trying to conceive naturally, having sex regularly is obviously important. Aside from the fact that you may get pregnant exactly at that time when you least expect it (when you weren't raising your legs in the air and doing everything right), sex keeps us connected to our partners. They are just as much a part of the fertility journey, too.
So, here are a few ways to make sex sexy…again:
1) Mix Up the Time  
Okay, so you may want to "time" sex based on your fertile windows; but you can still mix up the time of day that you hook up. If you're usually getting down right before bed, initiate a daytime session – first thing in the morning or before dinner. You'll be surprised by how much this revs things up in the bedroom.
Ask your partner if there are "cut off" times when sex isn't appealing. For example, your partner may say that after 10 pm won't work. It's amazing how many couples I've worked with through the years that never asked each other about their timing preferences.
Many couples get their sex lives back on track when they tweak the schedule.
2) Dress Up (or Down…Depending on Your Perspective)  
When you first started dating your partner, chances are you matched your underwear and bra and wore cute pajamas to bed. A few years in, your partner may be used to your oversized t-shirt and ripped underwear.
Let's be honest, it's tough to feel sexy and sensual when you're months or years into the process of trying to conceive. But, nice underclothes can help re-connect you with your sensuality and make you feel less like a baby-making machine.
Try wearing silky, seductive fabrics that feel great against your skin. Chances are, you'll have a sexy new hop in your step as a result.
3) E-flirt
There's no reason to abandon courting each other once you're together long-term.
Re-read emails or texts that you sent to your partner when you first started dating. You'll likely be impressed with your playful banter!
If you want to get down during your ovulation window, communicate this with your partner in a fresh, flirty way. Send a sassy picture or flirtatious note hinting at what you're looking forward to doing together.
4) Plan to Be Spontaneous
The secret sauce to keeping passion alive in a long-term relationship is introducing the element of novelty on a regular basis.
One issue with baby-making sex is that it can feel routine, mechanical and boring. It's tough to be spontaneous when you only have a 48-hour window to try to get knocked up.
Mix up the time of day that you hook up.
So, inject some originality into your approach so you remember why you fell for each other in the first place. This may mean getting a hotel room in the city one night or surprising your partner with something you know he or she loves.
Anything that sparks excitement and novelty, whether or not it happens during your ovulation window or the rest of the month, is a great way to get both of you in the mood again.
Sex may or may not lead to baby; but while you're trying, it will keep you and your partner connected. As much as possible, consider mixing up your routine, having fun (again), and being present. After all, once baby arrives, you'll miss the days of sex without the baby monitor on!
---

Contributor
Andrea Syrtash is the founder and editor-in-chief of pregnantish. She is a relationship expert and coach regularly featured on national TV shows including Good Morning America and The Today Show, and in Cosmopolitan, Glamour, and Women's Health magazines. She's the author of five popular books including He's Just Not Your Type (And That's A Good Thing) and Cheat On Your Husband (With Your Husband). She's passionate about helping people live and love authentically. For more, visit andreasyrtash.com
---

Listen to stories, share your own, and get feedback from the community.