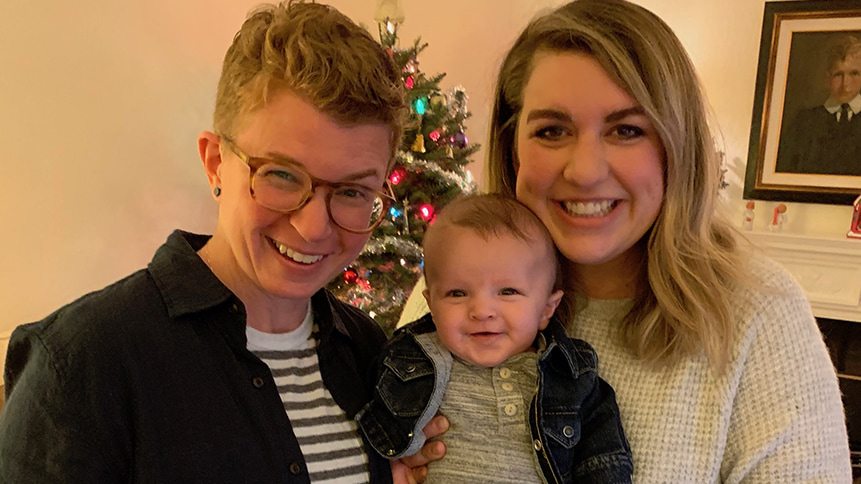 Like many modern love stories, Kate and Karyne's started online (OkCupid, to be exact). They bonded over the fact that the service informed them that they had a 63% chance of being enemies!
According to Kate, the two were texting and, "Karyne happened to be walking by the very club that I was dancing at with some friends. Karyne popped in, and it was love at first sight and first dance (and first drink)."
They got married a couple of years later, in September 2016, and welcomed their baby Ari on August 19 2018.
Q: What's your fertility story, in a nutshell?
We were blessed when it came to our fertility journey, because it happened fairly quickly and easily. We decided to use Karyne's egg and Kate's uterus because Karyne never wanted to carry a baby, but this was a way for both to be involved on a deeper level. Plus, Karyne was pushing 40 when fertility treatments started so it benefited everyone to try it this way first. We started fertility treatments in October, 3 healthy embryos (out of 14) made it to day 5. We did a frozen embryo transfer on December 15, and found out we were pregnant a couple weeks later.
Q: How did you decide on a sperm donor? Any advice for others trying to navigate that?
We first narrowed down which sperm bank we wanted to use. We wanted a nonprofit sperm bank that was local, which is a perk of living in the Bay Area. We went with Sperm Bank of California for these reasons, and they have more rigorous rules around how many children could potentially be birthed from one donor. There aren't any regulations about that! We also wanted the option of a known donor so our son could choose to contact him (through the bank) in the future. TSBC only has a known donor option.
Luckily for us, these stricter rules meant that there aren't millions of donors in this bank. So it's like they already narrowed it down for us. We narrowed it down further by choosing someone with similar features to Kate's. That left us with just a handful of donors. We opted to see baby pictures of the donors and we went with who we thought was the cutest (lol) who had no major health issues in the immediate family.
Our advice is to not place too much emphasis on the donor you pick. Try to narrow down the search by weeding out sperm banks that have millions of options. Go with someone healthy and whose picture speaks to you, but other than that, it's kind of just luck.
Q: Why did you start documenting your experience through a podcast?
We started the podcast to mark our fertility journey and to offer information for other people out there doing the same type of fertility treatments as we were — there's surprisingly very little information for LGBT couples who would like to do reciprocal IVF. Not that we were anticipating issues — as Kate had no red flags, no fertility issues, and was 32 years old at the time…but we really did think it (getting pregnant) would take a little longer. Our fertility podcast quickly turned into a pregnancy podcast – which is great!
Q: How was your experience going through reciprocal IVF as a lesbian couple?
We were very blessed when it came to doing reciprocal IVF. We live in the Bay Area, and our clinic is in San Francisco. Although I think we were the first couple to do reciprocal IVF there, everyone was very excited and happy to help us make a baby.
There were a few hiccups along the way, however: Pricing issues for two people doing the treatments, as well as one of the nurses asking if Karyne was Kate's sister. But, other than that, everything went really smoothly and everyone was onboard.
Q: What's surprised you most about your experience undergoing IVF to create your baby?
As I mentioned, there's very little information out there for couples doing fertility treatments when they don't actually have fertility problems. We hope "The Gayest Show on Birth" can help people looking for information or have any questions about reciprocal IVF. We always welcome emails and comments on social media, as we're very open about our life (clearly)!
Find them @gayestshowonbirth on Instagram and Facebook and @showonbirth on Twitter!
---

---

Listen to stories, share your own, and get feedback from the community.