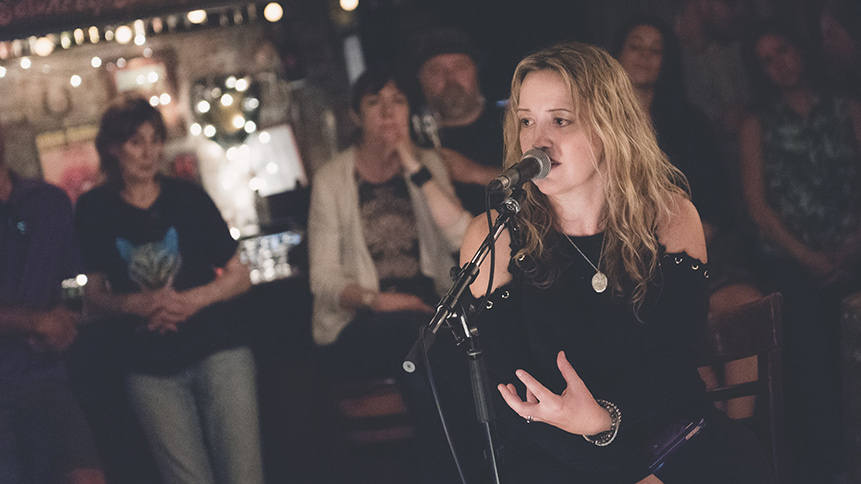 Pregnantish sat down with songwriter Andrea England to discuss her new song about pregnancy loss.
What inspired your song, "I Won't Forget About You"?
I was grappling with feelings of loss – both of mine and that of those around me – and struggling with, in particular, unexpected loss. I've lost a lot of family members and some friends in the last few years, and although it is always difficult, we have the comfort of rituals (both religious and non-religious) to help us navigate and heal…but when it comes to some types of loss – pregnancy, for example – the path through grief is still so private, and the rituals not so widely known nor accepted. It's not only the big things, like funerals, but the little things that mean so much: people like to keep and share pictures and mementos of lost loved ones …but what do you do when all you have is an ultrasound picture, gifts you'll never get to give, and announcements you'll never be able to send? Thinking about this, I wrote: "I keep your picture in a book beside my bed, with a letter that I know I cannot send…."
You've said it took you a while to release it. Why was that the case and why did you decide to share it now?
Firstly, it took a long time to write it. I wrote those first few lines right after my husband and I had our first miscarriage. We had a heartbeat and everything looked great; but at the second ultrasound appointment… no more heartbeat. We were so sad; but to make matters worse, we had already told our friends and parents, and one of the hardest things was telling them the sad news.
When I got pregnant again, I was so happy, but also felt a little guilty. I wanted to explain to the universe that this feeling did not mean I hadn't loved the first little soul we'd lost. In trying to explain that, I wrote: "I get sentimental now and then,  so I won't forget about you. I keep a locket on a string around my neck with nothing in it but the one I don't have yet, I get sentimental now and then but I won't forget about you…"
The week we lost our second pregnancy, I was booked to perform a showcase at East Coast Music Week in Halifax, NS, and then another at SXSW in Austin, TX. Rather than cancel the shows, I convinced my doctor to clear me for flight – I just wanted to occupy my mind. So I went and did the shows, but on the way home from Austin I got stuck in an almost empty airport in Wisconsin for 12 hours. I had my guitar with me, so I sat in a corner away from everyone, and wrote what would be the chorus of the song.
"I didn't know it at the time / but for a moment you were mine / You don't know what you got until it's gone / And I lost you while I was writing you a love song"
Then, flipping through my journal, I found those verse lyrics and they fit with the chorus seamlessly. I wrote the rest while waiting for my flight to board.
After performing "I Won't Forget About You," live a few times – after seeing its impact on people – I knew I needed to record it; however, I didn't want to tell people what it was about for me, because a) I wasn't ready, and b) I wanted it to be about whatever each listener needed it to be about. One person came up to me and told me that it reminded him of his brother whom he'd recently lost to cancer; another person said it reminded her of her Mom who died when she was young; and another woman asked me if it was about miscarriage and if there was a way she could share it with her sister.
So I gathered a team and we recorded the song. My producer, John Whynot knew what it was about, so he felt it had to be simple and raw….so we did a few takes and that was that. We just wanted to capture the honest sentiment – nothing more and nothing less.
But here's why I didn't end up releasing it at the time: shortly after I recorded the track, I found out that I was pregnant again, and had been when I recorded the song…and, then, I found out that these words I'd written would soon come true again for a third time.
"I didn't know it at the time / but for a moment you were mine / You don't know what you got until it's gone / And I lost you while I was writing you a love song"
I couldn't listen to it for a while after that, because it was a record of my pregnancy. Literally.
Now that some time has passed, I'm back again to a place where I realize that helping others heal – and helping them feel heard – is a way to make lemonade from this whole experience (that's been a recurrent theme in my life and maybe the reason I'm here).
What may people who have never had a miscarriage not understand about the experience of pregnancy loss, in your opinion?
It is profound. It is not only the loss of a pregnancy – it's the loss of hope and a big part of a future you'd already started planning. It's the loss of a life you'd already started to love and care for. It's the loss of grandchildren for your parents.
The moment I got pregnant, my priorities changed. I changed. I may not have a child, but I understand now what it feels like to be a mother.
How did this story/chapter of your life evolve?
That's a complicated story, and one I'm not quite ready to share yet. Let's just say it's a song in progress.
Anything else you want to add?
There is strength in numbers; but in order to stand together and support one another, we have to be visible to one another. I appreciate that pregnantish is creating this safe space in which to step out into the light.
---

---

Listen to stories, share your own, and get feedback from the community.